LOCAL SCHOOL PUPILS TAKE A MUDDY BOOTS VISIT TO NEW COMMUNITY IN WHITLEY BAY
A group of lucky year three pupils from Marine Park First School, visited the site of McCarthy Stone's Retirement Living Plus development, Elderton Place in Whitley Bay this week, for a lesson on all things site safety, recycling and most importantly what is being created so close to their school.

The children of Marine Park First School were invited along to Coquet Avenue by McCarthy Stone Senior Site Manager, Neil Lister, for a muddy boots visit where the children could ask all their burning questions about the building process and why and who the development is being created for. For many of the children, they were most excited to see the crane in action which they have been observing with interest from the playground which neighbours the new site.

McCarthy Stone welcomed the children of Marine Park First School to watch the activities taking place on site from the safety of the viewing platform. Here the children also took part in a Q&A session with Neil where they asked plenty of questions about the role of a Site Manager and what it is like creating quality retirement properties.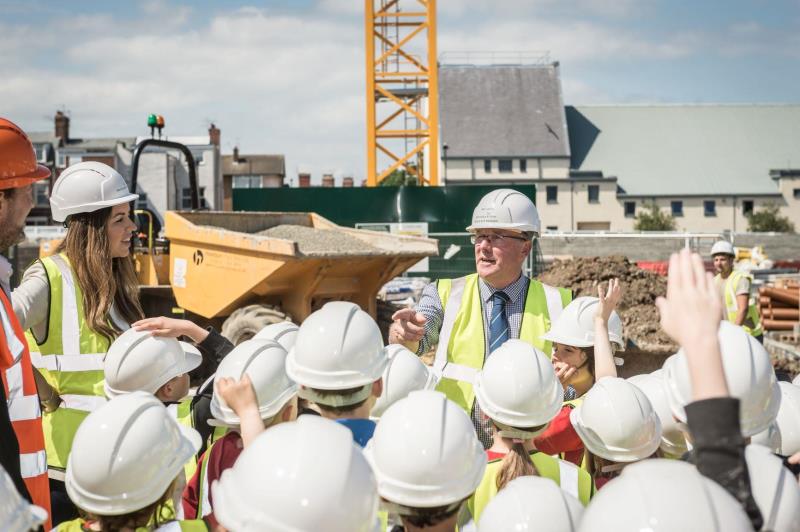 Neil Lister, Senior Site Manager for Elderton Place said: "When we chose to build in Whitley Bay, we knew we wanted to create strong relationships with the local schools and businesses in the area. It was an honour to speak to the children of Marine Park First School and to teach them all about the materials we are using here, and how important it is to follow the safety precautions when on site.

"The children asked plenty of interesting questions and were mesmerised by getting to see the crane in action. I hope we have influenced the next generation of local builders and architects. We hope to invite the school back for a tour once Elderton Place is complete and acquaint them with some of our newest homeowners."

Stephen Easton, Headteacher at Marine Park First School, added: "The children were excited to pay a visit to the upcoming McCarthy Stone development that is being built nearby. The creation of Elderton Place has been of interest to the children, particularly the movements of the large crane.
"Our muddy boots visit was very insightful, and the children learnt valuable lessons about the construction industry, recyclable materials and how McCarthy Stone is enriching the lives of older people. We would like to thank Neil for his time and the packs McCarthy Stone put together for the class."