Following rapid progress of UK Covid-19 vaccination programme, 74% of over-65s are optimistic about the post-pandemic future, finds new McCarthy Stone research
10th February 2021
New research shows increased optimism amongst over-65s for the future following good progress with the vaccine roll-out
53% will be confident to go shopping on the high street again and 68% are confident about seeing friends and family post-vaccine
With 12 million people in the UK having now received their first Covid-19 vaccination, including most of those aged 70 and over, new research from McCarthy Stone, the UK's leading retirement developer and manager of retirement communities, has found that almost three quarters (74%) of older people feel optimistic about the future.
The UK survey of 1,000 people aged 65 and over provides a hopeful view of the road back to normality. 68% said that after the vaccines they would have confidence in seeing friends and family, and 66% would be confident to resume everyday tasks such as going to the doctors. The McCarthy Stone data also supports the Bank of England's recent prediction that retired households will start spending first, with 53% saying they'd be happy to be shopping on the high street again.
The research highlights the resilience of the over-65s during the pandemic, and whilst the lockdowns have undoubtedly been a challenge for everyone, many have found a number of positives in their experience. 39% of over-65s said they had chosen to use their lockdown time productively and a fifth (20%) believe their relationships with friends and family have become stronger during the period. Whilst 55% of the group have spent more time online than usual, 22% have spent more time outdoors.
However, despite their generally positive outlook, older generations are realistic that the move back to normal life is a gradual process. Whilst 4% believe 'normality' will return in the next three months, almost half (46%) believe it won't happen until 2022. There are also a few activities that will take a little longer for older people to feel comfortable doing again, like attending big social occasions such as weddings, parties or gatherings, which 63% said they wouldn't feel confident doing after vaccination, and going on holiday, which 58% expressed a lack of confidence in.
McCarthy Stone has more than 20,000 homeowners across 441 retirement developments in the UK and has had a busy year supporting its communities through the lockdowns. The company believes there are important lessons to be learned from the pandemic with regard to care and support for older age groups, and that empowering the over-65s on their road back to 'normal' is an essential step in getting the UK back on track.
John Tonkiss, CEO of McCarthy Stone, comments: "The level of resilience I have seen among our customers during the pandemic has been nothing less than remarkable, and it's great that the vaccine is helping move us towards a more positive future. Helping the UK's older generations back to living the lives they want to live is our top priority, and it will support the UK's socio-economic recovery too. We know from our own research that around 80% of the people living on our developments use their local shops daily, with homeowners in a typical development spending £550k a year, most of which goes on the local high street. It'll be great to see everyone back out in town centres again soon.
"At McCarthy Stone, many of our homeowners have told us that they have felt more supported and happier than if they had been living alone during this challenging time. But we know that confidence in later life living is driven by a range of factors, including adequate housing, community and a sense of belonging, health and social care. As the pandemic gradually eases and the UK starts to rebuild itself, we're committed to working closely with the Government and other groups to progress dedicated policy reform in each of these areas, to create the infrastructure and support that our ageing population needs to enjoy a better and happier future."
Additional findings from the McCarthy Stone research include:
• More than half (53%) of the over-65s believe they have coped with the pandemic better than younger generations
• 97% have either had, or plan to have, the vaccination
• 45% of the over-65s approve of how the government has handled the pandemic
History repeats itself as 86-year-old Mr. Berkeley becomes one of the first in town to receive second Covid vaccine - 60 years after he was among the first to receive the Polio vaccine there in the 1950s.
86-year-old Mr. Leslie, Berkeley has an apartment in McCarthy Stone's Broadfield Court development in Prestwich where he lives with his wife Valeria, aged 83.
A former clothing manufacturer, magistrate and chairman of the bench, Leslie moved onto the development with Valeria in January 2019. Throughout lockdown they have kept in touch with their four children, 10 grandchildren and nine great grandchildren both virtually and in socially distanced patio meetings (when restrictions allowed).
Mr Berkeley was amongst the first in his town to receive the polio vaccine back in the 1950s when he was just 24 years old, saying at the time that "immunisation is a fine thing". Now, more than 60 years later, he has been amongst the first in his town to receive the Covid-19 vaccination – and again he is a big advocate of the roll-out programme.
Leslie says: "Like when I received the Polio vaccine all those years ago, receiving the Covid-19 vaccine really seems like the beginning of the end and there is a real sense of positivity. While there's obviously a long way to go it's quite remarkable that there's already a vaccine and I'm lucky enough to have had it. It has obviously been hard not being able to see many of my friends and family throughout lockdown and it's just not the same virtually, but the staff at McCarthy Stone have been brilliant in keeping our spirits high during this time. I should also add that the NHS have been brilliant when it comes to organising the vaccine roll out for everyone. It's hard to look ahead at the moment but we had a full year of enjoyment at Broadfield Court before Covid-19, so we know what we have to look forward to getting back."
Looking ahead to the future and the summer holiday period, 86-year-old Mr Hanman at Monument Place in Salisbury has just received his first vaccine and is looking forward to the lockdown restrictions lifting so he and his wife can start planning their next vacation.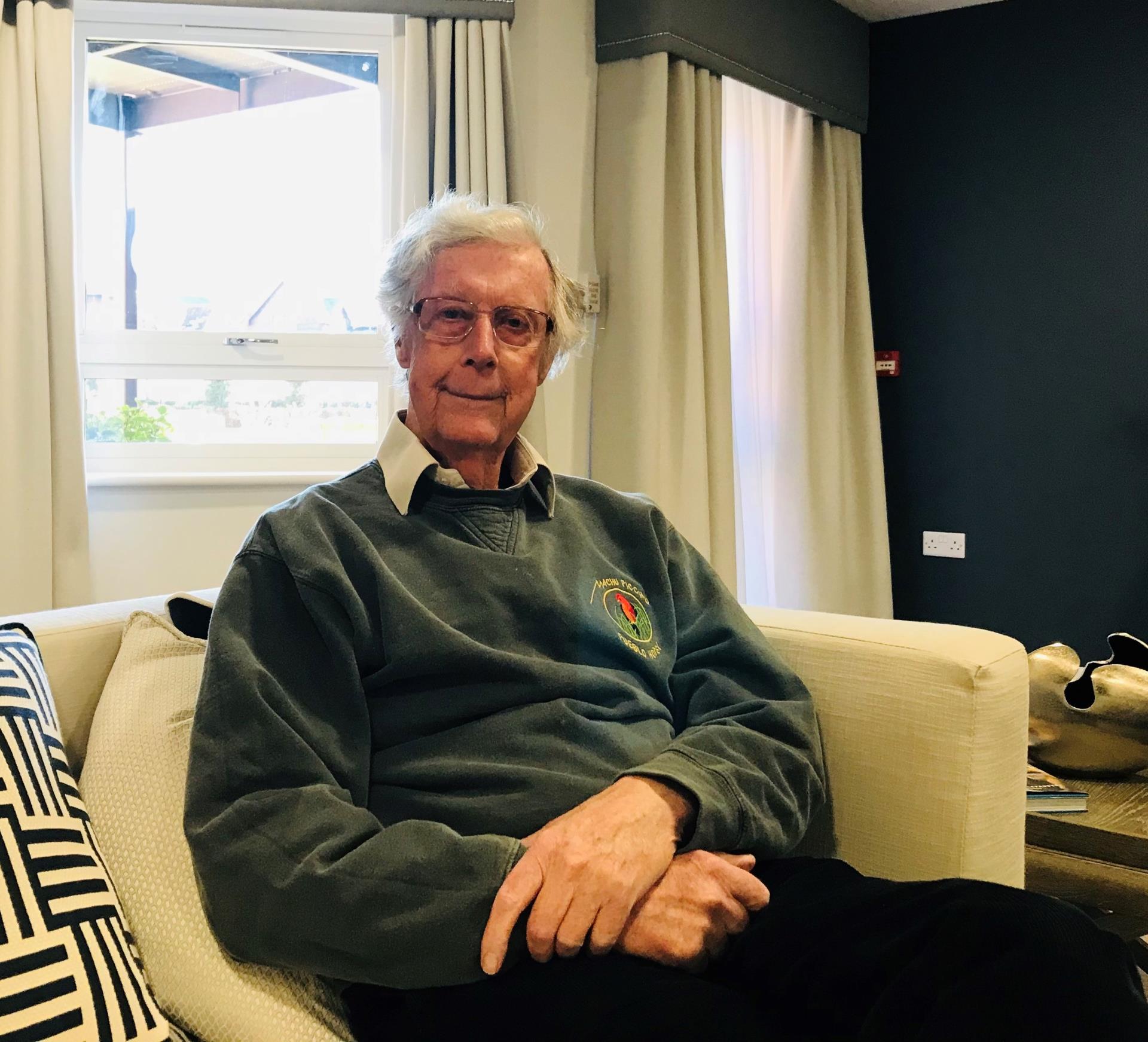 Aged 86, Mr Keith Hanman owns an apartment in McCarthy Stone's Monument Place development in Salisbury where he lives with his wife, Patricia aged 87
Retired professional, Mr Hanman moved into the development in April 2020 and like many, following the outbreak of Covid-19, had to cancel a number of holidays abroad and trips to see family and friends. Now, having received his first vaccine and his wife scheduled to receive hers in the coming weeks, they're looking forward to the future and booking their next vacation as soon as possible.
Keith says: ''It's been a very difficult year for everyone, not seeing family or being able to go away either home or abroad. We had to cancel a number of trips that we had planned which was disappointing, but hopefully we are starting to see things improving with the vaccine. I recently had my first injection so feel reassured especially as it should give around 70% protection. Hopefully my wife will have hers soon, and then after the second jab we plan to go away in July, as we love travelling and visiting new places.''