Part Exchange: The Practical Option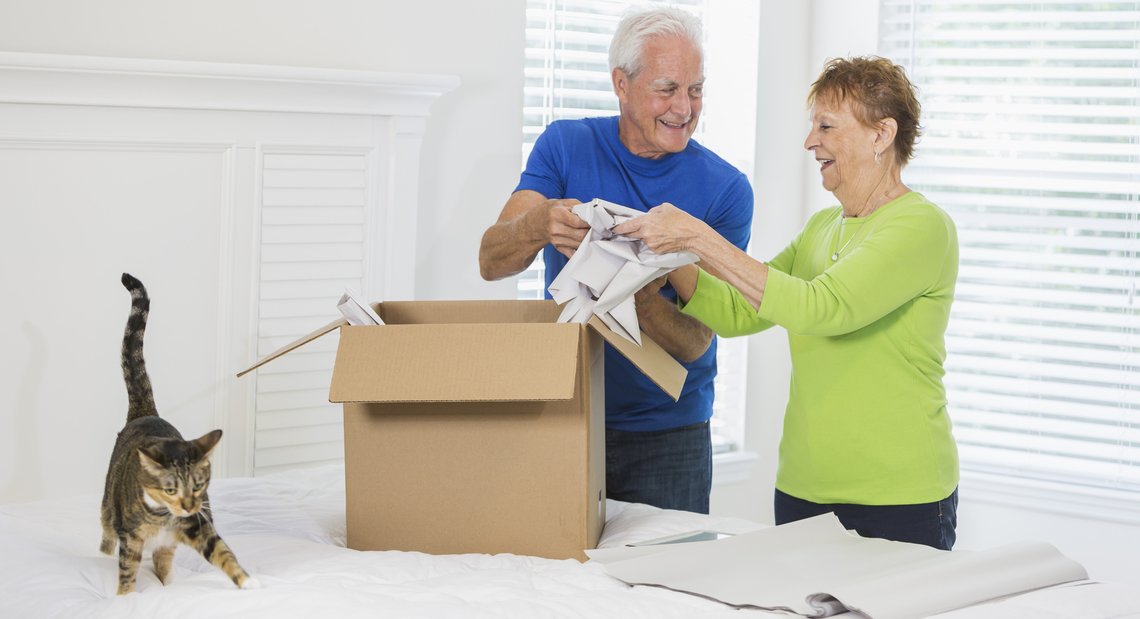 Part Exchange - The Easy Way to Sell!
One of the main advantages of part exchanging your house is that it delivers certainty; quite simply, you know you have a buyer. All you have to do is choose which McCarthy Stone home you want and know that, with the Part Exchange service, it can be yours without any undue hassle.
Nor do you have to worry at all about moving day itself. Once Part Exchange is agreed, we will help you with what can be a very overwhelming and difficult task, to ensure that it's as stress-free as possible. One of our trusted Part Exchange Partners can help you through the process every step of the way, and will be there to advise you.
Because you have a guaranteed buyer, there is no risk of them not finding a mortgage (causing the deal to fall through) and no problems at all with a buying chain. You can therefore, within reason, create your own timetable for moving – and do so as quickly as you want. With Part Exchange, you can even complete arrangements and move within three weeks, if you so wish.
This is obviously a big improvement on traditional high-street estate agents (and without their fees!) – homes spend an average of 10 weeks on the market in England and even longer in some regions. As an option, Part Exchange is therefore invaluable when the housing market is slow.
By arranging all this with us, you can even have access to your old home for up to two weeks following completion. So, you could remove your life's belongings gradually if that suits, without the pressure of having to do everything on one day. The whole process is just so much easier.
At a practical level, Part Exchange includes some very hands-on, useful additions, many of which make all the difference to a lot of our buyers. We know how overwhelming moving home can be – it is regularly cited as one of life's most stressful experiences. That's why McCarthy Stone also offers free removals with a de-cluttering service thrown in.
Nor do we leave it there. Using our removals teams also operate a free packing and unpacking service. For many of our homeowners, practical help such as this comes as a huge relief and, we're told, is among the most popular aspects of the Part Exchange deal!
What's more, our teams can visit you for up to one month after you have moved in, to further help you with all those little jobs that arise in settling into a new home, whether it is putting up your pictures or hanging new curtains. And remember, all of this is free of charge.
As your new home will be ready for you and in excellent condition, you won't have to worry about carrying out any alterations or redecorating. So, no more paint brushes or hammers! Instead, you can settle into a contemporary-styled, comfortable apartment that has been carefully designed with your needs in mind.
Many of the rooms have useful extras: our modern kitchens have raised-up ovens, making it easier to place and remove dishes (as you don't have to bend down). In the living rooms and bedrooms, you will find that the wall plugs have been placed at mid-height for ease of use. Also, most of our master bedrooms feature large walk-in wardrobes.
Other well-thought-through additions include under-floor heating in the majority of our apartments and modern bathrooms with slip-resistant shower-cubicle floors. And in the communal lounge there is complimentary Wi-Fi and internet access, although many residents also choose to have their own personal service.
All McCarthy Stone developments are carefully chosen both for their attractive settings and the convenience they offer. Useful amenities such as shops, supermarkets, a doctor and dentist are generally readily accessible, often only a stroll away from the development. Not only does this make life much easier, it also reduces dependency on a car, should you so wish.
It all makes for a wonderful and varied retirement. Many of our homeowners take up new hobbies and make new friends. In fact, many find that day-to-day living becomes so much easier after they have moved into one of our apartments, they feel like they are on a perpetual holiday!
All of our McCarthy Stone developments have a friendly House Manager, who is always on-hand during office hours to attend to your enquiries and needs. It is also part of their role to keep an eye on security, although most of our developments have camera entry systems.
Part Exchange takes away all the anxiety about moving, so you can enjoy your new home and lifestyle as soon as possible. Quite simply, it helps you to enjoy the life you deserve.