Mythbuster: your top 10 concerns of retirement living answered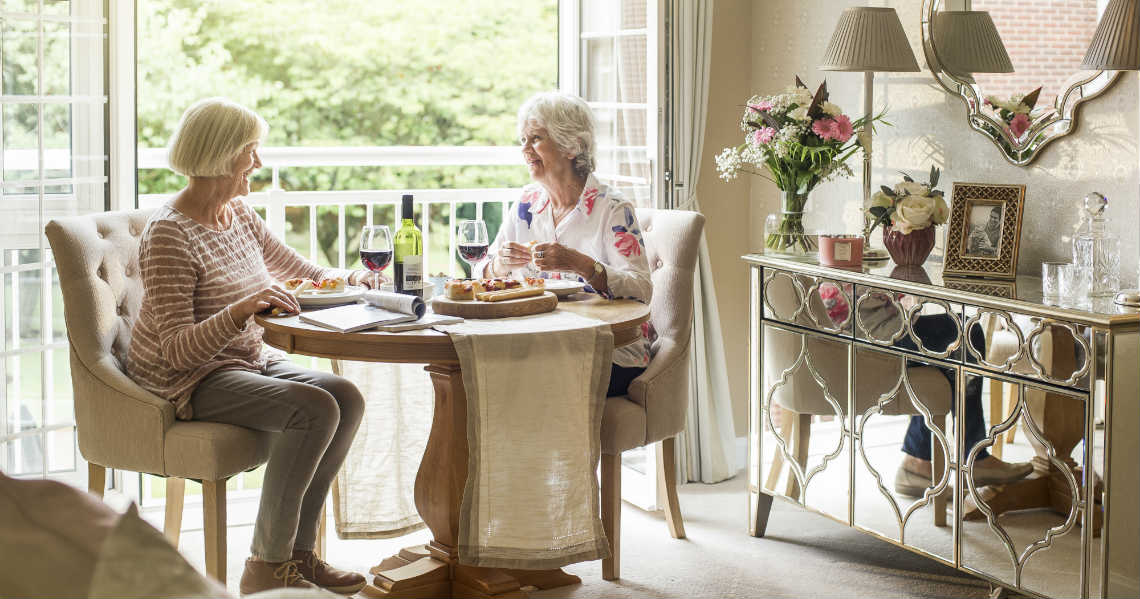 Many people have misconceptions about what retirement living means. So we've answered your most commonly asked questions
Q: My privacy is important to me – I just don't think this type of property is suitable as everything is communal.
A: While most properties have communal facilities such as a homeowners' lounge, and Retirement Living PLUS (formerly known as Assisted Living) developments have a restaurant, you can use these as much or as little as you choose . Your apartment is privately owned by you and is all you would expect from a modern self-contained property.

Q: I can't move to a McCarthy Stone apartment because I have a pet.
A: At most developments, a well-behaved pet including a cat or a dog can come with you to your new apartment, as McCarthy Stone respects the importance of such companionship. Click here to find out more about our pet policy.

Q: I have a large home with room for family and friends to stay. If I move to somewhere smaller that will have to stop.
A: McCarthy Stone's apartments are designed to maximise space and comfort – many customers are surprised at how spacious the rooms are, so there is plenty of space to entertain. If you need more space in the day to spend time with guests, you can use the homeowners' lounge. If they want to stay and you haven't made up the spare room, visitors can stay in the hotel-style guest suite, available at most developments at a low cost (often £25).


Q: These types of apartments only have short leases.
A: All apartments which started selling after August 2015 now come with a 999-year lease (previously 125). This alleviates any concerns about selling with a shorter lease in the future.

Q: The thought of packing up my home and 50 years of memories puts me off moving.
A: It can seem daunting, but you could not be in better hands, from the moment you make a reservation to the day you move in. One of the biggest concerns for most buyers is moving out of a larger property. That's why McCarthy Stone offers a professional, decluttering, packing and removal service to ease that stress. In addition, McCarthy Stone offers a payment when you sell your existing property using one of its recommended selling agents and a contribution towards your legal fees when you use one of its preferred solicitors.*

Q: I think it will be more expensive to live in a McCarthy Stone apartment than in my current home.
A: In many cases, charges for McCarthy Stone apartments are less than like-for-like costs in a customer's previous home. Heating costs are often lower due to modern construction standards and the more manageable size of the new home. A member of the McCarthy Stone team can meet you to discuss your needs, help calculate your likely costs, review what is covered in the service charge and compare it to the day-to-day running costs of your current home.

Q: Buying a property that isn't even built yet doesn't sound like a good idea to me.
A: This is "buying off-plan" and with McCarthy Stone there are many advantages to this. You'll be the first to see plans and prices and get first choice of plots on the development. There are also familiarisation tours where you can look around a similar development to get a feeling of the lifestyle before you buy.


Q: I love my outdoor space; moving into an apartment means I'll lose it.
A: Most developments have beautiful landscaped gardens. There are patios outside most ground-floor apartments and often balconies on higher floors. And all exterior maintenance is taken care of.

Q: I've never come across service charges before, they sound confusing and expensive.
A: The service charge reflects both customers' expectations and McCarthy Stone's own high standards. In Retirement Living developments, the charge covers:
House manager
24-hour emergency call system
Camera door entry system
Buildings insurance
Maintenance of buildings exteriors, communal areas and grounds
Water and sewerage rates
Cleaning of external windows
Communal area heating
Retirement Living Plus developments offer flexible care options and have an on-site team of up to 17 people per development available 24 hours a day, 365 days a year, the service charge also includes:
Running cost of the restaurant or bistro.
One hour of domestic support per week** from staff on site covering such chores as cleaning, shopping and domestic help. Homeowners choose how best to use this support
The additional cost of the on-site support team.
The size of the service charge varies between developments but is formulated the same way across the country. Charges are fixed on an annual basis. McCarthy Stone is transparent when it comes to showing how the service charge is calculated. The charge each year is agreed in consultation with homeowners through an open-book budgeting process. The best cost is negotiated with service providers and service charges are regularly monitored in managed schemes against others in the market and third-party providers to ensure competitive rates.

Q: If there's major work to be done at the property I'd have to foot the bill.
A: It is important that homeowners do not face any unexpected financial burdens in their new home resulting from, for example, the need for major refurbishment.

In order to ensure enough money is available to meet any unexpected work, the service charge includes a small amount to help cover these costs. This is called the Contingency Fund and is similar to a "sinking fund". It is kept in the development's own bank account and is held in trust for the maintenance of the development. To keep this weekly cost – and so the service charge – to a minimum, the development's Contingency Fund is "topped up"' by a one-off charge of 1 per cent of the resale price on the sale of the apartment.

*Terms and conditions apply
**Varies by development