How much will we spend in Christmas 2020?
This year, we're all in need of a little festive cheer. So, as the nights begin to roll in and the mercury starts to plummet, it's only right that we look forward to Christmas. However, Coronavirus has completely changed the way we live our lives so, could it change Christmas, too?
To find out, we surveyed over 1,000 people from all over the UK. In doing so, we gained a picture of how much people in different cities and regions of the UK are planning to spend this Christmas on gifts, food and decorations. On top of this, we also asked whether they were changing their spending habits this year and whether they planned to spend their time any differently this festive season. Here's what we found out.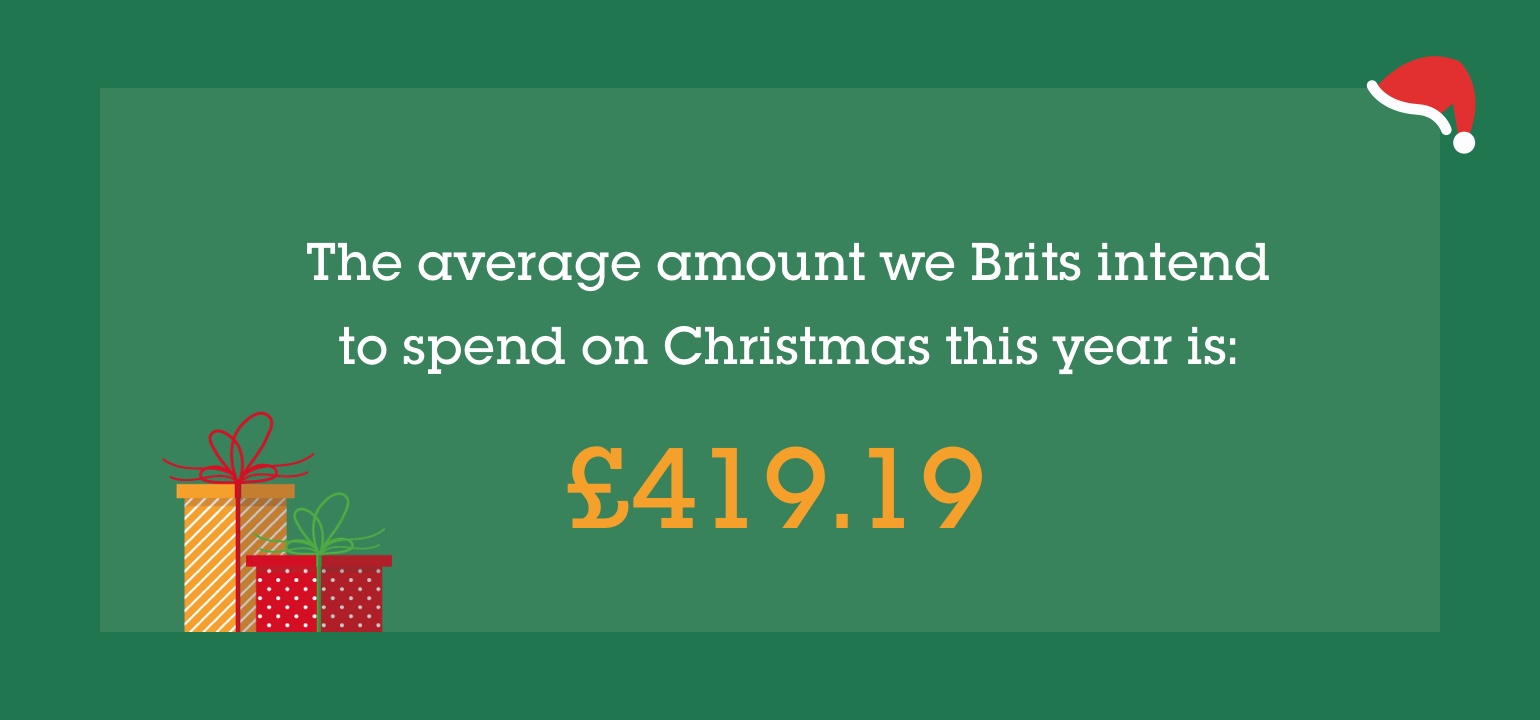 The graphic above shows what the average household spend will be across the UK this Christmas, which is split approximately 50/50 between food and gifts, if you compare it to spending data from last year.
How Does this Compare to Previous Years?
In the UK, we spend more on Christmas than any other European country. However, this year it appears as though the pattern may be different. This is because when we compare our survey data with
Deloitte's 2018 and 2019 Christmas surveys, we can see that people in the UK plan to spend almost £150 less on Christmas this year than they did in 2018 and 2019 – where the average spend was £560 and £567 respectively.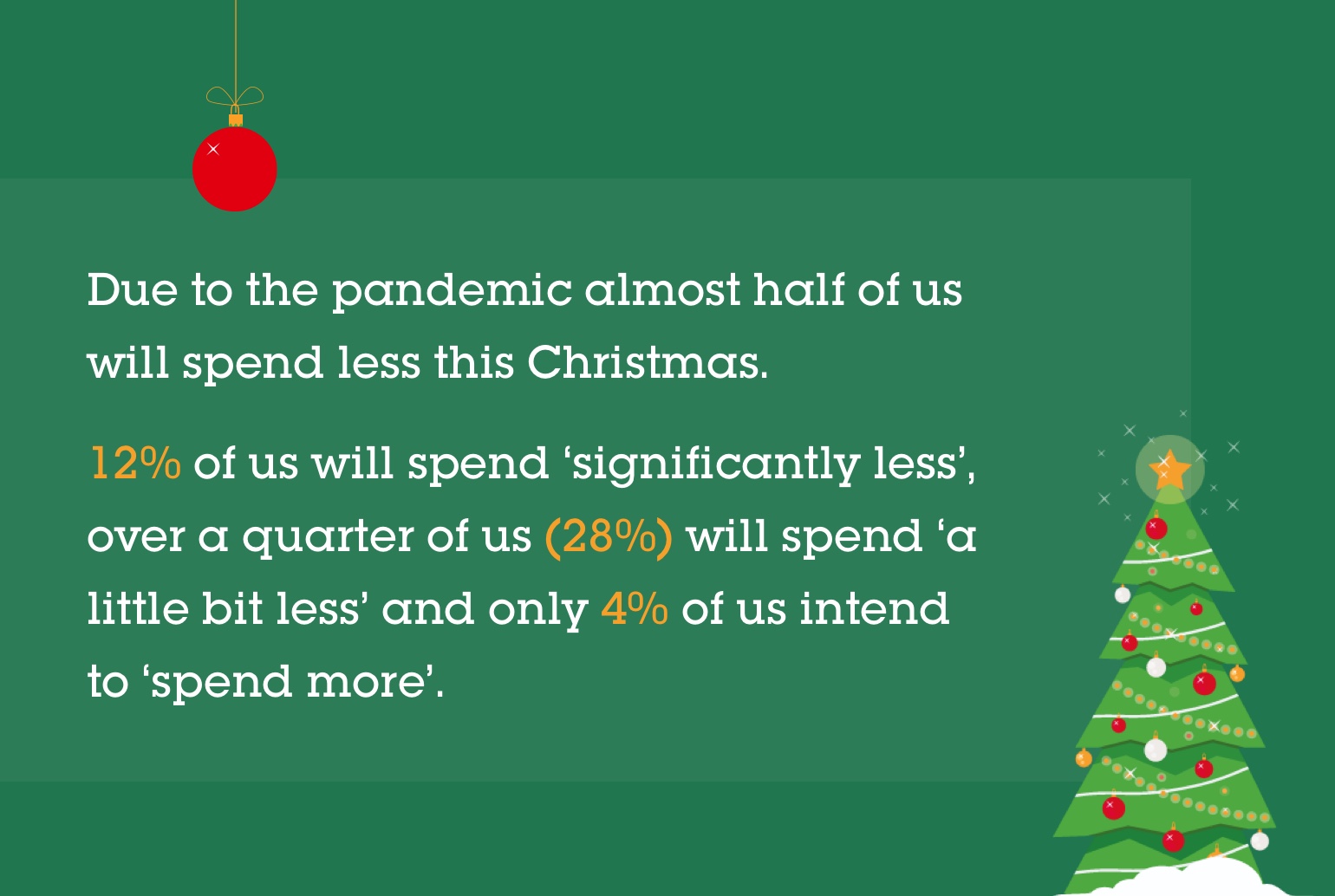 As you can see, almost half of respondents (47.7%) told us that they were spending less because of the Coronavirus pandemic. As part of this, 20.1% of respondents told us that they planned to spend 'hundreds of pounds less' or 'significantly less' than last year. The rest of the data showed only a fraction of us (4%) intend to spend more and 10% and 30% of other respondents claimed they 'weren't sure yet' or their spending would be probably unaffected by the pandemic.
That said could our spending end up being the same as last year? Financial experts believe that people in the UK usually spend £152.70 more on Christmas than they budget for. Perhaps those last-minute bargains really are irresistible after all!
Why are we planning to spend less this Christmas?
Due to uncertainties in the job market, the end of the furlough scheme and worries about when the pandemic will end, it's unsurprising to hear that people are planning to spend less this Christmas. After all, earlier this year over half of Brits told YouGov that the pandemic had caused a minor, moderate or major decrease in their spending.
According to consumer insight company Toluna, these fears have carried into the second half of the year and 52% of people in the UK are worried about how they will afford Christmas this year. As part of the survey, 40% of their respondents told them that they are prioritising saving for 2021 in fear of what may be to come. In addition, 43% of the people they polled said they were concerned about their current financial situation and over a third (40%) said they didn't have any festive savings.
On top of this, not only are many of us planning to spend less because of Coronavirus, but many of us are also changing the way that we do our Christmas shopping. Although shopping on the high street may be fun, 46% of our respondents told us that they will do most of their Christmas shopping online this year – with a further 28% saying they were now only shopping online because of the pandemic. Furthermore, only one in five respondents told us that they will do most of their shopping on the high street this year.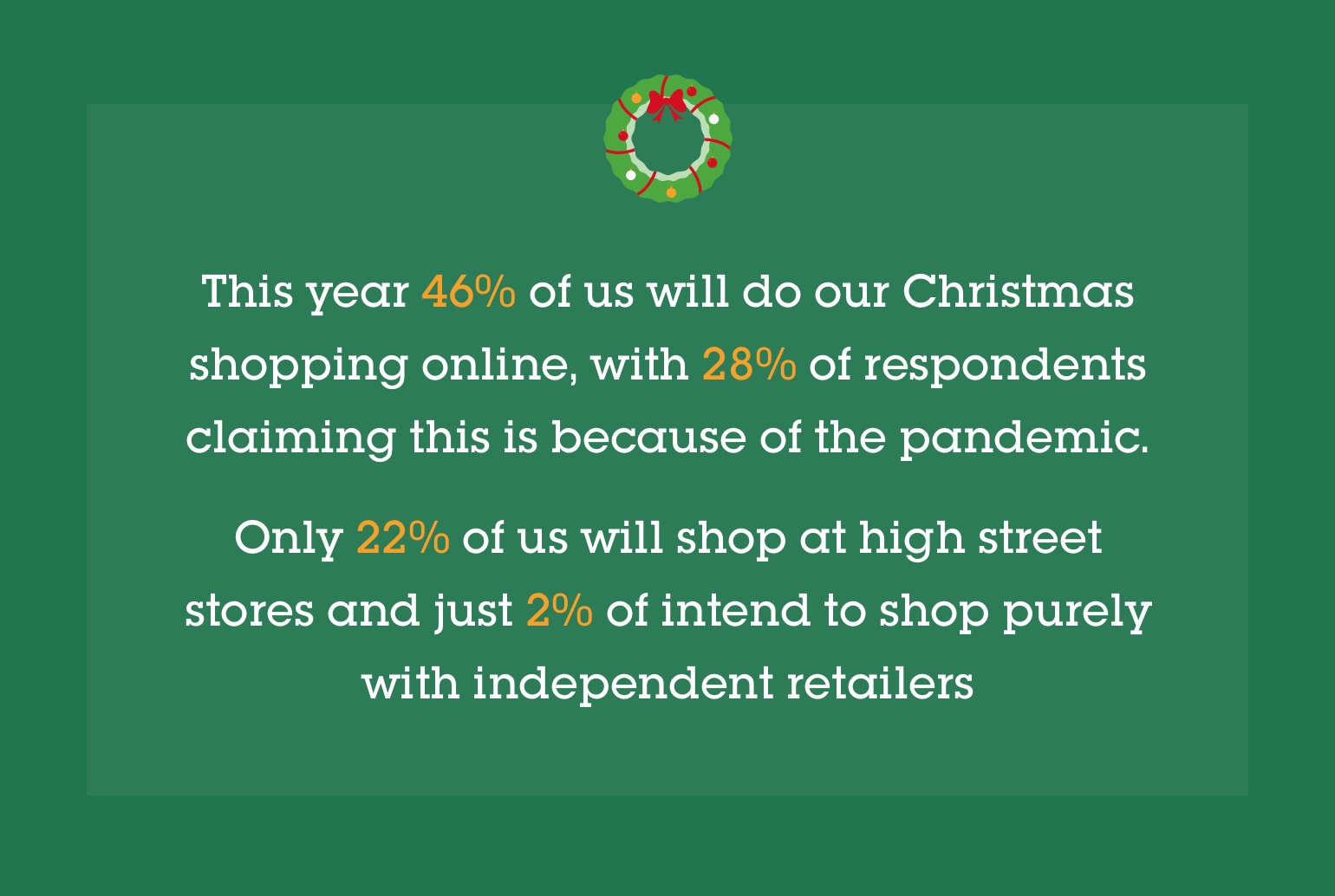 Finally, from our research, it's also clear that Coronavirus will also change the way we spend our time this Christmas. Almost half of our respondents (45.4%) told us that they plan on spending more time with their families than they usually would this festive season. After missing out on so much family time this year, this is unsurprising and Christmas provides us with the perfect excuse to meet our loved ones and exchange gifts that show how much we care.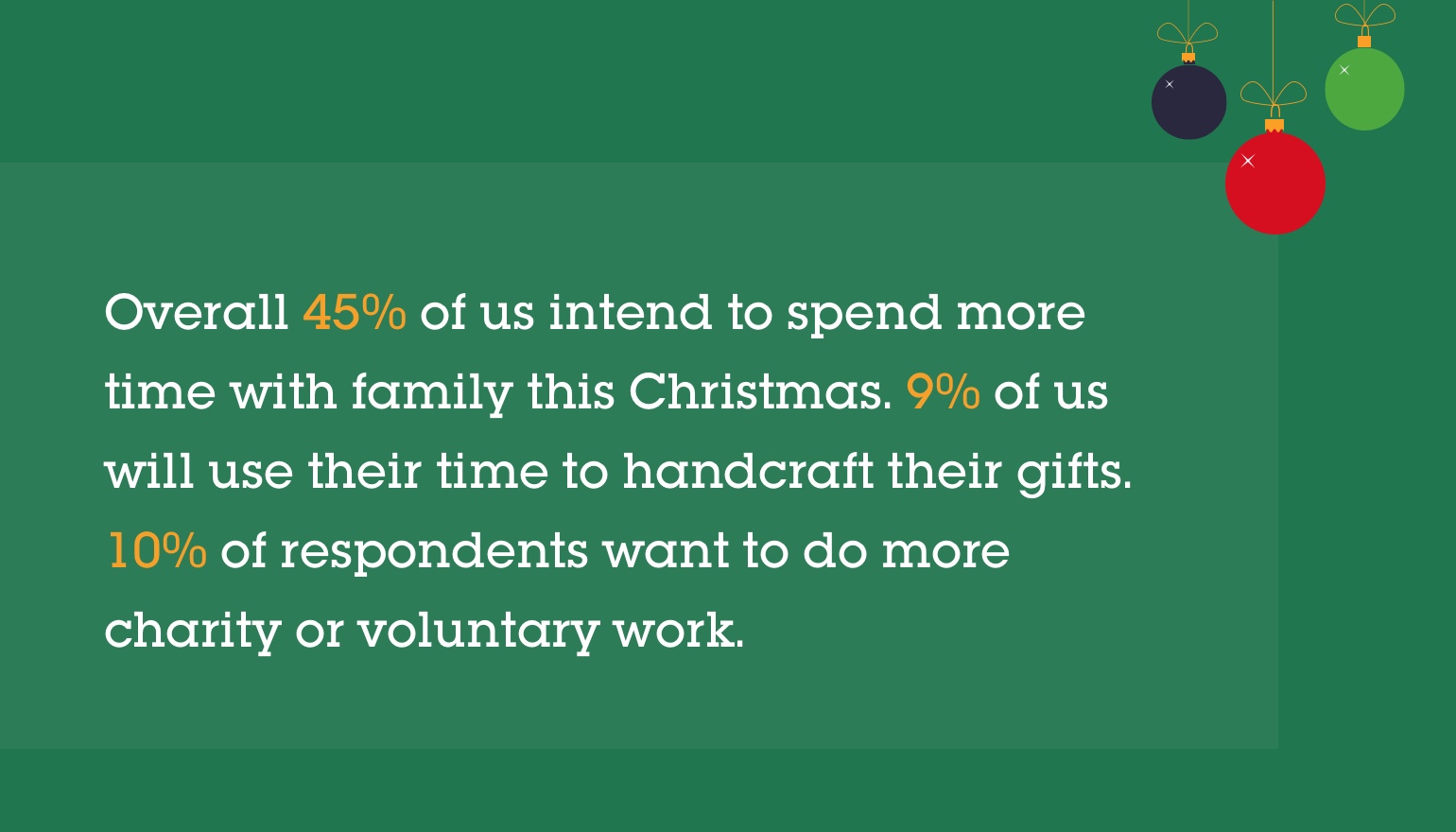 In addition, as you can see above, almost 10% of respondents told us that they will use some of the extra time the pandemic has afforded them to make their own gifts. Plus, around 10% of those surveyed also informed us that they intend to give back this year by doing some charity or voluntary work.
Perhaps this is a sign that initiatives such as 'clap for carers' have caused us to think more about others this year and have made us consider ways we can give back to the communities that have supported us during difficult times?
In detail: How Much are People Spending at Christmas?
Although many of us assume that men forget about Christmas and opt for some last-minute shopping, our research has revealed that men and women plan to spend roughly the same amount on Christmas this year:
However, as the map below shows, there are differences in how much people are planning to splurge on Christmas presents, decorations and food this year depending on where they live in the UK.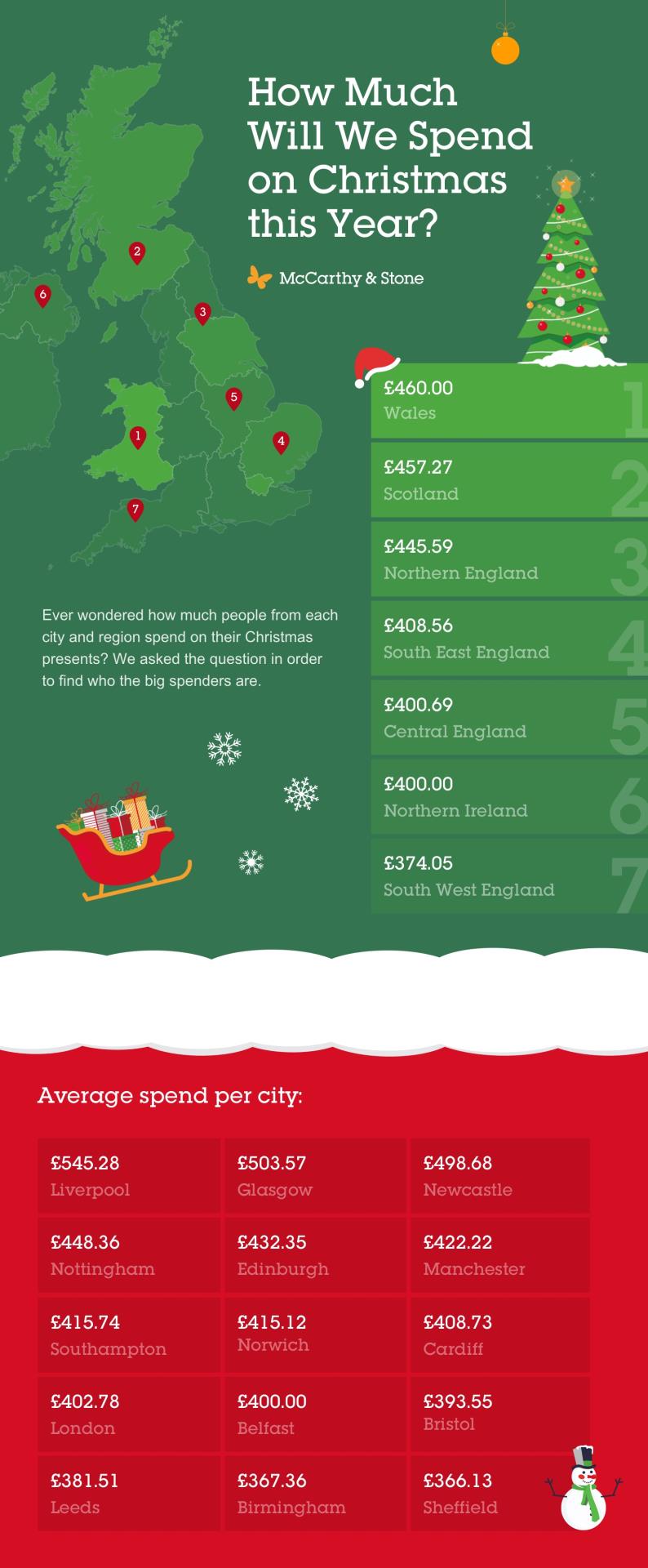 If you live in Liverpool and you've sent a long list of presents to Santa, you're in luck. This is because our survey shows that Liverpudlians plan to spend more money this Christmas than people anywhere else in the UK (£545.28).
At the opposite end of the spectrum, our research has revealed that people in Sheffield plan to be the most frugal this festive season, spending £366.13. That's almost £180 less than people in Liverpool!
On a regional level, our research revealed that Scottish people plan to spend more money on Christmas (£457.27) than any other region, while residents of South West England plan to spend the least (£374.05).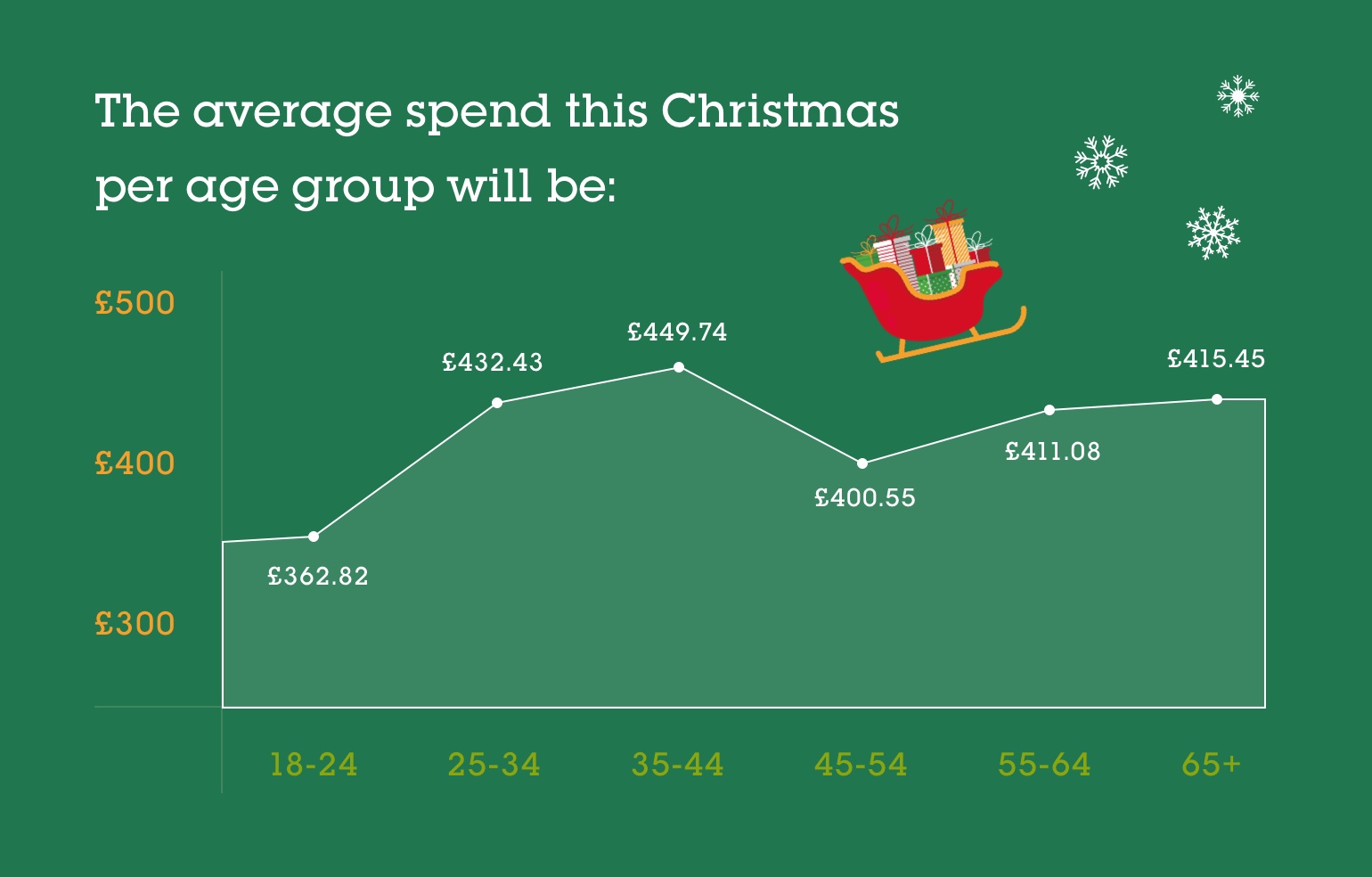 Finally, as the data above shows, our survey also revealed that how much you plan to spend may depend on your age. We found that over 65s will be generous this festive season and they're planning to spend over £50 more than 18-24 year olds. However, 35-44 year olds will be the most generous. They'll spend £449.74 each on gifts, food and decorations this Christmas.
The Importance of Christmas
Christmas is a time to come together, but we might have to share festive cheer in new and creative ways this year. Here at McCarthy Stone, we believe that we're all one big family.
Although we won't be able to hold all our usual events and parties, we'll still find ways to celebrate and bring Christmas spirit to all our retirement communities. And whatever restrictions are in place, we'll be looking after our homeowners' wellbeing and happiness throughout, with initiatives like our volunteering programme and our partnership with Morrisons, ensuring everyone has access to good food and a cheery chat.
So remember, even if you are spending less this year, there are several ways that you can spread joy throughout the festive season. Whether you're planning on seeing more of your family, volunteering or showing how much you care by making your own gifts, make sure you make this Christmas magical.

McCarthy Stone

McCarthy Stone are the UK's leading retirement housebuilders. Take a look at our retirement properties for sale here.
You can find more seasonal content below...
Chocolate and Panettone Bread Pudding recipe
A delicious hot panettone and chocolate Christmas pudding recipe, perfect for Christmas day, from our McCarthy Stone chefs.
..read more