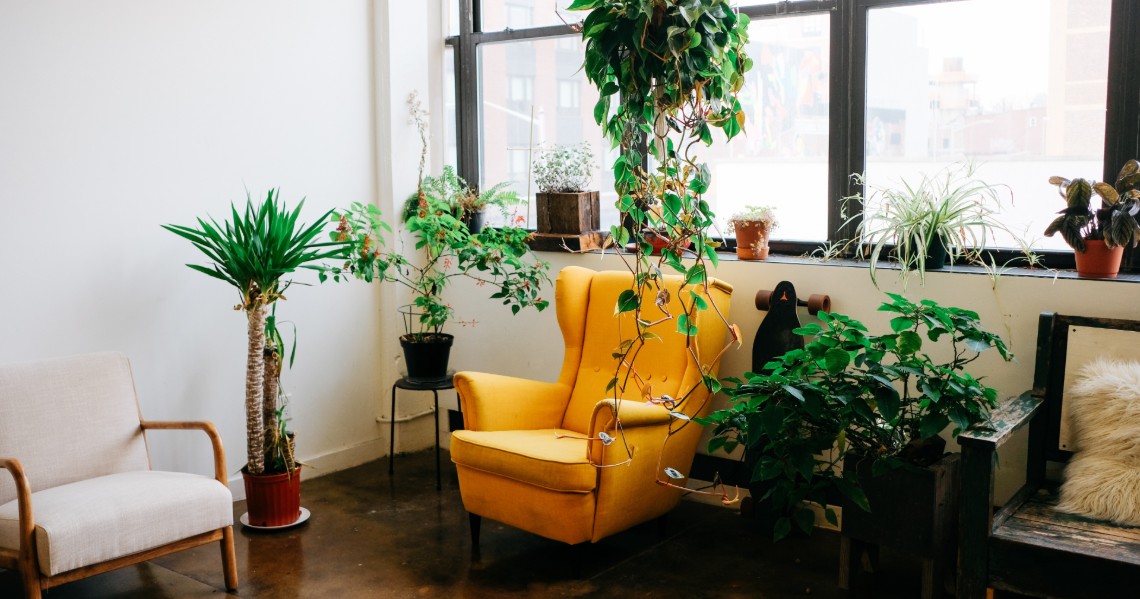 The shops have been quick to pick up on this and you can now buy a bigger range of houseplants than ever before. So much so, that if you're looking to introduce some more greenery into your home, you can even easily pick up a cactus alongside your weekly groceries the next time you visit the supermarket.
In this article, Leigh Hunt, Principal Horticultural Advisor at the Royal Horticultural Society provides his knowledge and expertise on keeping houseplants.
Where's Best to Place My Plants?
East- and west-facing windowsills are the ideal position for most house plants as it's not too sunny and hot, and there's good light all year round. When choosing plants, for visual impact, think about contrasting leaf shapes and colours.
For inspiration, here's one stunning combination you could try. The upright blue leaves of the fern Phlebodium aureum f. areolatum 'Blue Star' next to the trailing creamy variegated creeping fig Ficus pumila 'Variegata', plus the bold bronze of a Begonia 'Bethlehem Star combine well.
TOP TIP: Grouping three or five smaller plants together make the best displays and the humidity they collectively produce helps keep away brown edges from their leaves.
For the sunniest windowsills, the most fashionable of houseplants – cacti and succulent – are ideal. There's a wide range of shapes to play with here. From tall and thin cacti such as Cephalocereus senilis (which is known as the old man cactus as it sports a grey beard) to the spiky zigzags of Aloe vera, which is also renowned for its medicinal properties.
How Often Should I Water My Plants?
All houseplants like their compost to be kept just slightly damp rather than saturated. However, cacti and succulents will tolerate drying out for a few days longer. Check with your finger how wet the compost is before watering if you are unsure. For better results, between April and October, apply a houseplant feed according to the instructions on the pack.
Many variations of orchid, including the moth orchid (Phalenopsis) are as cheap as a bunch of cut flowers that would only last a week, and yet orchids will flower for months.
For best results, place your orchid on a table near a window. They need less light and will often scorch if put closer. All they need is watering as soon as the compost dries. Just place the pot under the tap and sluice the water through the compost for 30 seconds or so, until it gushes out the bottom. Allow to drain and return to their decorative pot – it really is as easy as that.
Accompanying Accessories
To complement your house plants, you could add some accessories. The variety of plant pots has exploded, so try complementary or contrasting colours to bring the display alive. Likewise, hanging pots are all the rage and just need a secure hook above the window. While macramé might be too 1970s for many, there are lots of more minimal styles available. So, whether you've going for the mid-century vibe or modern clean lines, there are plenty of options.
For a finishing touch, glass objects such as bon-bon dishes and vases (which can also be planted) help to reflect the sunshine. But, whatever the weather this autumn and winter, you'll be able to enjoy a leafy green space without setting foot outside.
Where Can I find Out More?
If you need some extra advice on which house plants to choose, read our interview The Guardian's former gardening editor, Jane Perrone, on the best plants to choose for making your own indoor garden, click here.
Alternatively, we have a wealth of gardening tips and tricks in our online blog, which can be found here, including how to upcycle to create the perfect plant containers – something a little bit different from your usual terracotta pot. Read that, here.