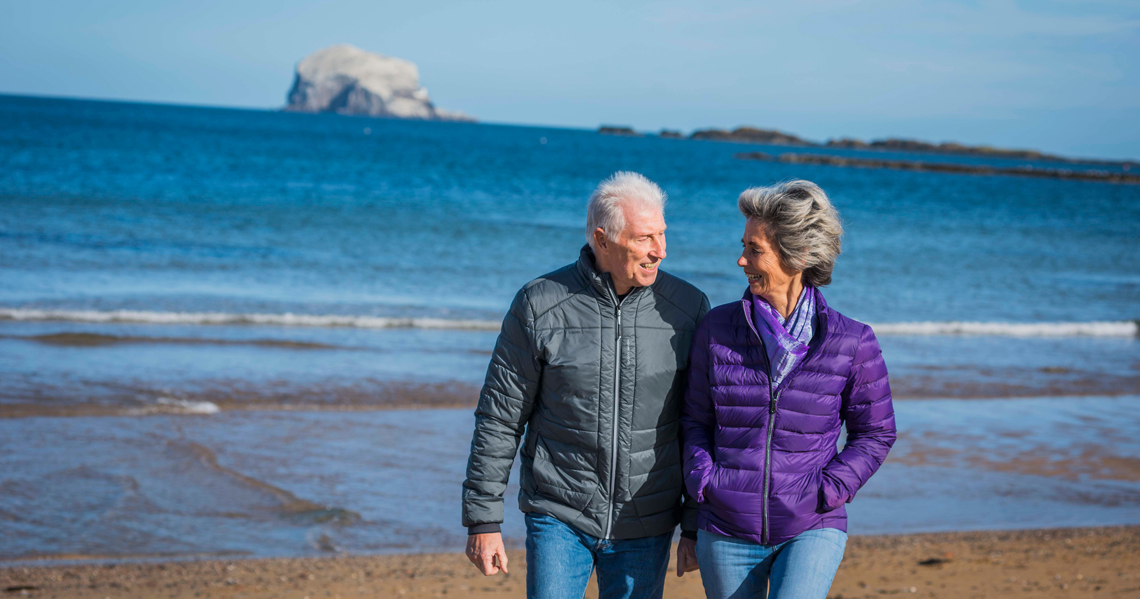 Colin and Pat Mackay are looking forward to making the most of their retirement following their move to North Berwick 
The couple didn't feel they were old enough to consider a Retirement Living development but they did want to downsize and move to a property that would future-proof their retirement.
They could benefit from less time spent on general house maintenance and no time on gardening, while also having the opportunity to take advantage of the time to explore new experiences and rediscover old passions such as travelling.
Colin, a retired sports facilities manager says: "We quickly realised that so many apartments are now rented out or can be booked through Air bnb that in many cases we would probably never know our neighbours! And that just didn't appeal to us.
We've been married for 35 years and have always lived in Edinburgh. While we don't think of ourselves as old, we did feel that it was time to downsize from our house in Trinity so we looked at a number of new apartment developments across Edinburgh.
We liked the concept of having the balance of owning your own private apartment and having like-minded neighbours and a community around you, should you want company now or in the future.
"When we considered the practicalities of our property in Trinity, we realised that as we got older it would just be too large for us to manage, and that's when we decided to act and make our move before we perhaps needed to."
The couple have always loved East Lothian and had a holiday home in Dunbar for a number of years, so when the time came for them to consider where they would like to spend their retirement, they were naturally drawn to the area.
Initially the couple viewed an apartment at our established development in Dunbar because they were familiar with it, but in the end, they decided they would like to put their stamp on something new.
On a day trip to North Berwick, they took the opportunity to visit Sheila at Tantallon Court.
The couple were given the opportunity to stay overnight in our guest suite, which gave them first-hand experience of living at the development. They had an excellent time and welcomed the opportunity to meet some of the homeowners who had already moved in.
"I'd recommend anyone who isn't sure if they are ready to move to take advantage of a guest suite - it's a great way to see for yourself if you really like it."
North Berwick is so well-connected. While we are looking forward to making new friends and building an active retirement here, we have a great number of friends that we will stay in touch with in Edinburgh."
The couple are looking forward to enjoying a mixture of new and old experiences as part of their retirement.
Pat is already looking at volunteering options locally and exploring a range of groups to get involved in, while Colin is looking to exploit his commitments as a trustee of Walking Football Scotland.
"I'm keen to spread the word about the benefits of retirement living. I've already been telling my friends that Pat and I are busting the myth that developments like Tantallon Court are for old people! They're simply not. Our development feels like a hotel, yet it feels like home with neighbours who are fast becoming friends – what's not to enjoy."