Thank you
It's time to celebrate all the meaningful acts that keep our communities safe and strong. Who would you like to thank?
Joan Heath (Duty Manager) Cartwright Court
Thank you
"What a Team! And I mean Managers, staff, homeowners and their families who's cooperation and hard work have kept us safe. Thank you to our wonderful Estate Manager Emma Cullen for her flawless leadership during this crisis. We have, so far remained Covid 19 free. Sparkle clean, everyone! And keep spraying the anti bac! We're not just a workplace, we're a big Malvern family."
Number 6, Randolph House
Thank you
"Thank you to all the Randolph House team for looking after everyone, especially during lockdown."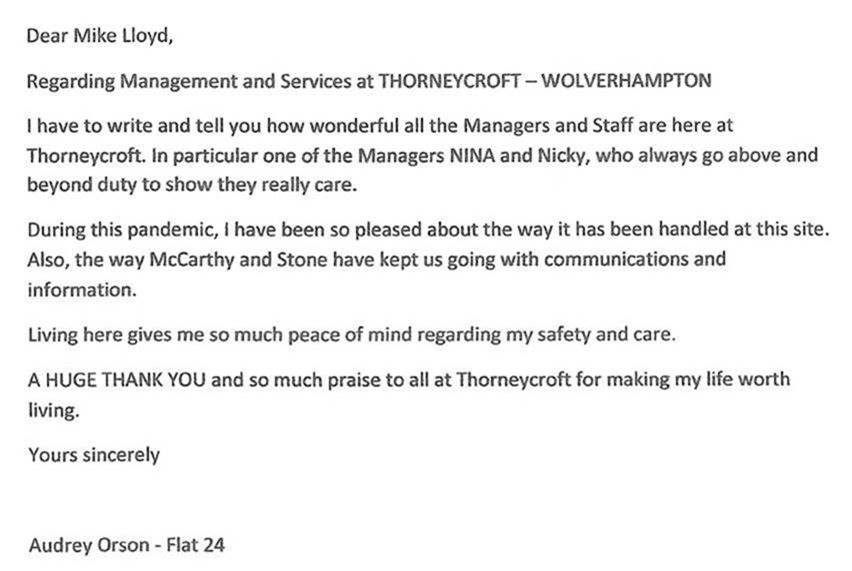 Audrey Orson, homeowner
Thank you
"During this pandemic, I have been so pleased about the way it has been handled at this site. Also, the way McCarthy Stone have kept us going with communications and information.
Living here gives me so much peace of mind regarding my safety and care.
A HUGE THANK YOU and so much praise to all at Thorneycroft for making my life worth living."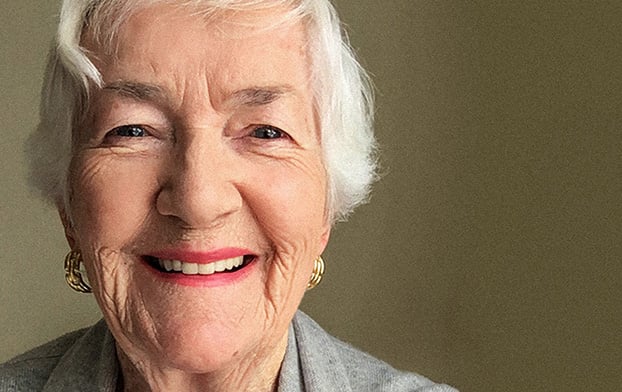 Marion, Randolph House
Thank you
"To Arun for our bright and early supermarket runs during lockdown, so that I could stock up on all my favourite fresh fruit and vegetables. Delicious!"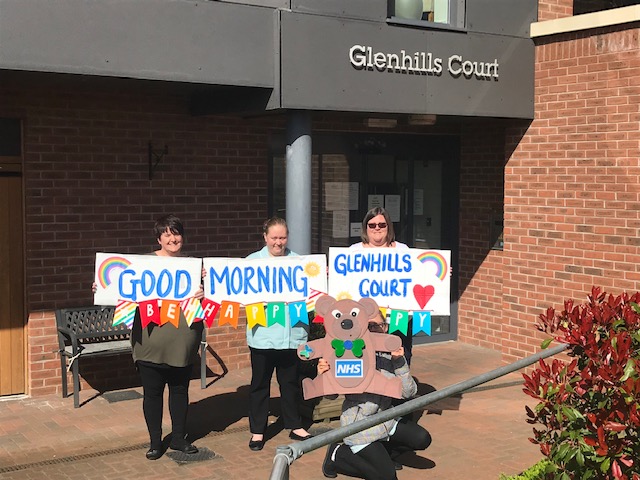 Helen, Glenhills Court
Thank you
"Our homeowners have taken each day in their stride and have followed the procedures that have been put into place with an extremely positive attitude, understanding that their wellbeing and safety is paramount. Glenhills Court - You are all Superheros."
Mrs Toomey
Thank you
"My husband, Brian, recently had a 90th Birthday and I would like to thank all members of Ellisfields Court Staff who, under Lauren's leadership on the day, contributed so brilliantly to making the Birthday the success it was"
Helen, Estate Manager at Foxhall Court
Thank you
"THANK YOU to all the amazing people who make up Foxhall Court in Banbury. We have stayed safe and if we continue to be mindful of our actions we will see this through. Many of us have struggled at times, however the love, kindness & respect you have all shown has been totally mind blowing."
Ray Veysey
Thank you
"Second letter thanking the staff, and well deserved they are. I believe they all the sites also have volunteers that help reduce the load on the staff, how about some thanks for them."
Emms Matchette
Thank you
"Jarad, is the Manager at Wallace Court, Ross on Wye. Since my Mum moved there 2 years he has always been an incredible help and very supportive. But covid 19 proved just what an amazing man he is. Cannot express our thanks enough and from my Mum, Pat Davies too. One in a million!"
Homeowner
Thank you
"I really appreciate the work of whom that put their lives in danger by working in the middle of Covid19 lockdown. All doctors, nurses, food production workers, drivers, supermarket owners and lots other of these brave men and women. Thank you all."
Peter Doreen
Thank you
"Thank you Pam for the wonderful help through lockdown you are an angel"
Sid and Moira Fuller, Homeowners
Thank you
"A huge thank you to our manager, Ronan, and his wonderful team. Here at Oakhill Place we are a very new development with lockdown coming just as homeowners were moving in. Ronan and his team have remained cheerful and positive throughout, greeting us with smiles every day. Nothing has been too much trouble. We loved the ice lollies, Ronan!"
Amanda Knight
Thank you
"Thank you for keeping everyone safe and well.... For the thanks and appreciation shown in all what we do & did. For the wonderful donations given to our colleague who suffered a devastating house fire during all this and time was found to show her how much we care. Love my workplace and I clap for everyone of us..... Team Oak Trees"
Sheila Nunney
Thank you
"An enormous 'thank you' to Gemma Wordley, House Manager at Coralie Court, Norwich. I always find her friendly, helpful, discreet and conscientious, but recently when I was ill (fortunately Covid negative) she was amazing. She went well beyond the call of duty with her help, support and advice, not only for me, but to all the homeowners. She is a model Manager and a credit to McCarthy Stone."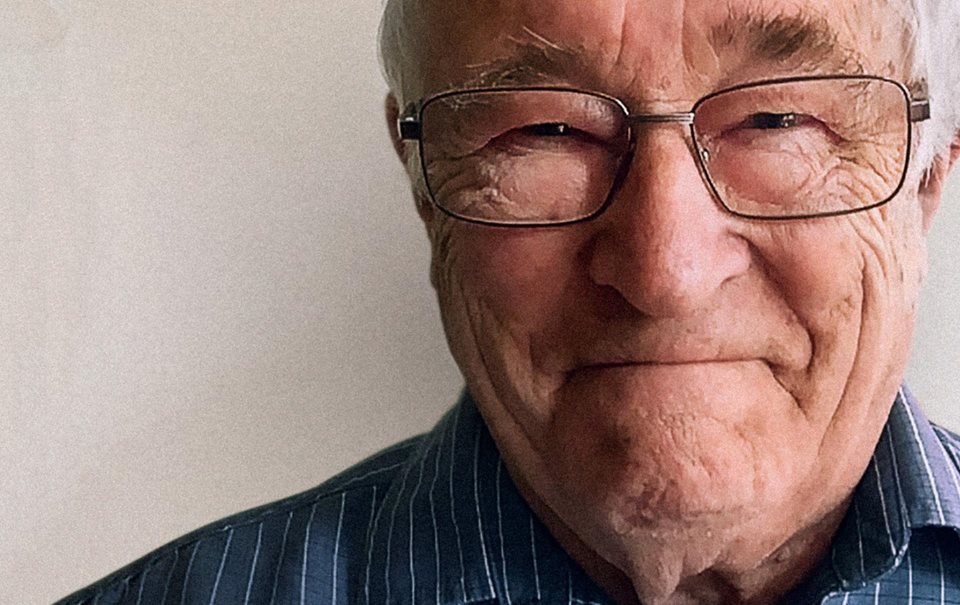 Ted, Glenhills Court
Thank you
"To our Estate Manager Helen for the 11am waves, your cheery smile and sterling work during these trying times."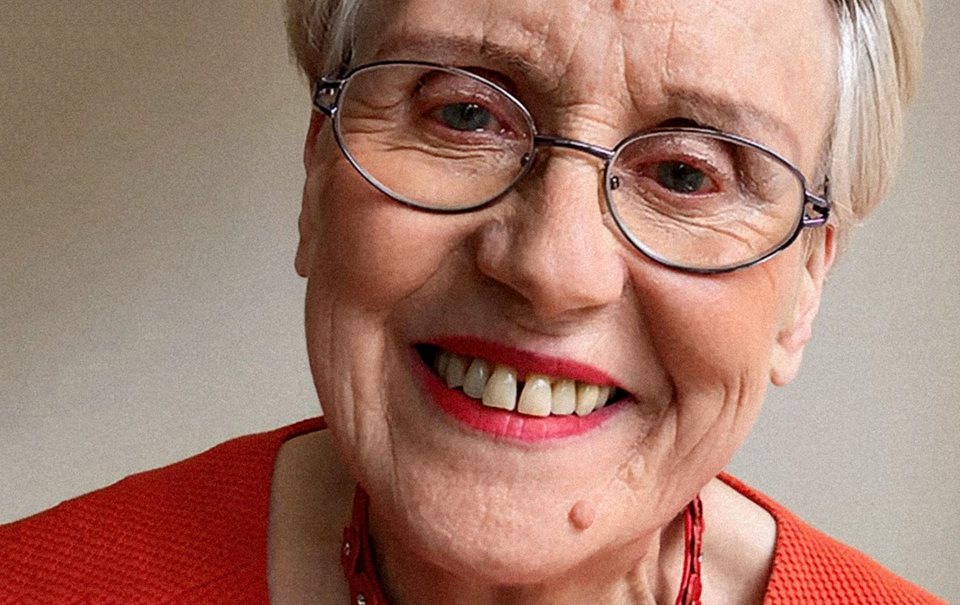 Karen, Arden Grange
Thank you
"To Betty. Generous, kind, the nicest person that you'll find, she brought me carrots, cauli and peas when Covid put me on my knees!"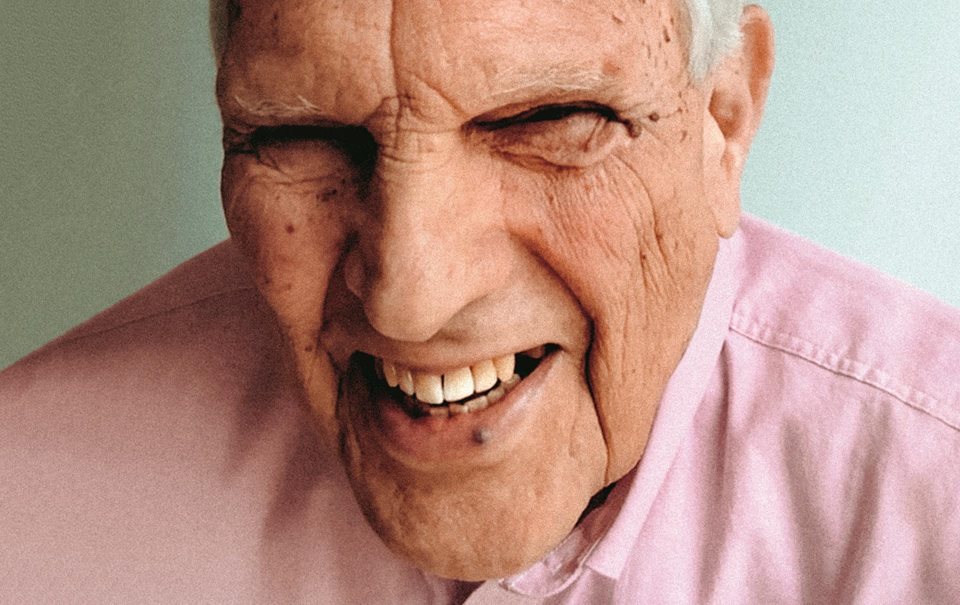 Bryan, Isabella House
Thank you
"To my top-class friends and neighbours for helping each other through the crisis. I could not imagine a better place to live."
Peter at No.45
Thank you
"Helen our House Manager through this pandemic has readily put herself at personal risk responding to the many and varied needs of anxious residents This she does on a regular occasion pandemic or no pandemic. How lucky we are to have you as House Manager at Coopers Court You are much appreciated."
Pamela Oberheim
Thank you
"A very big thank you Helen for everything you do for us here. It has been a very difficult time but you have gone far beyond your duties to keep us all safe."
Linda, House Manager
Thank you
"A huge thank you to Graham for delivering the post and parcels, also to Stuart for delivering to newspapers and for all the work Tony has put in, in getting us all able to use technology enabling us to enjoy our virtual coffee mornings. Also a big thank you for supporting your neighbours during the lockdown and helping to keep everyone safe here at Canning Place."
Lynne and Don Prescott
Thank you
"Thank you to our house manager Helen Egan who, even before the current crisis, would always go above and beyond for our residents & since the lockdown has done so much to help keep us safe & well"
Lucy Daly
Thank you
"I would like to say a big thanks to all the staff, the hospitals, HSE workers and to everyone who is staying safe in lockdown preventing the coronavirus"
Thea
Thank you
"It's been a difficult few months, bearable mostly through the constant help, patience and ingenuity of our lovely Concierge Allison. She has supplied us with all sorts of goodies, encouraged us when we needed it, always with good humour and has my gratitude for keeping me sane, just!!"
Miranda
Thank you
"Thank you to Jason and his family for being on the end of the phone, when I needed some food. etc., I used to think you lived near me, but was surprised when I found you had to travel to get to me.... sad to think I never saw my neighbours at all. And thank you to the district nurses who worked tirelessly through everything...."
Diana, Isabel Court
Thank you
"Thank you so much for the talks organised with Mirthy, I have watched everyone and really enjoyed them and it is nice to have to have something different to look forward to. Alex and his team have been fantastic sorting out problems by e mail and over the phone."
Pamela Sala Newport
Thank you
"Thank you I live alone I am disabled it is a comfort to know help is available if necessary"
Homeowner, Alder View Court
Thank you
"A huge thank you to our excellent caring House Manager, William Stuart who has worked so hard to keep us safe. Thank you also to Mike Lloyd and his team for all their support at this time, we really appreciate it."
Christine, Blake Court
Thank you
"Big thanks to Jodee, House Manager at Blake Court, Bridgwater for all her help to keep us sane and safe; for making sure those of us without relatives to help had food etc and for just being there when needed. Thanks for the friendship of the other Homeowners and to McCarthy Stone for arranging the Mirthy talks - what a brilliant idea"
Margaret Lobby
Thank you
"A huge thanks to all the Priests who have looked after our spiritual needs, through live streamed church services, during this pandemic. It has made such a difference. Without their help Covid 19 would have made my days very long and empty."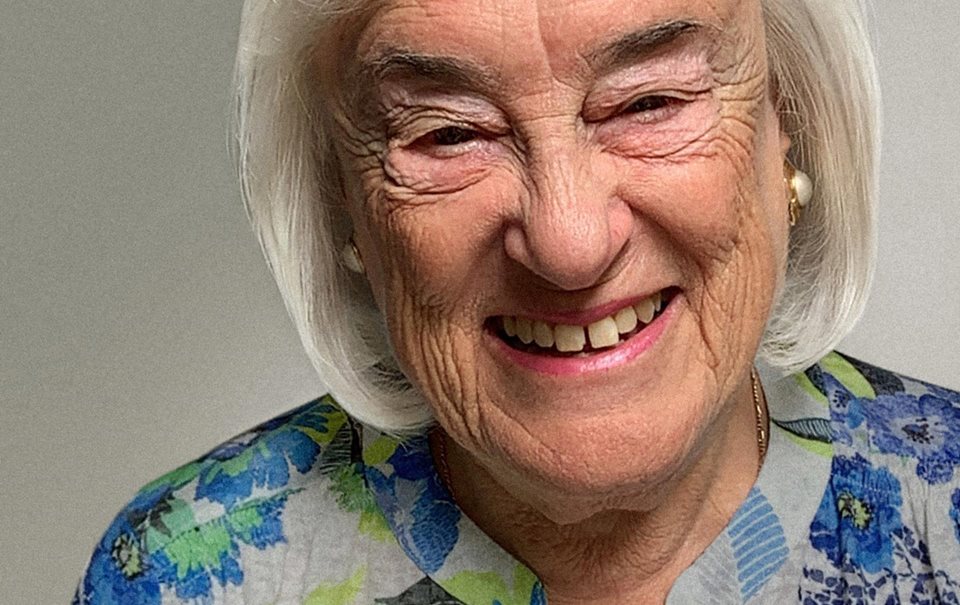 Angela, Goldwyn House
Thank you
"To Ani and her team for all the brilliant support while I've been isolating at home. Your reassurance means the world to me!"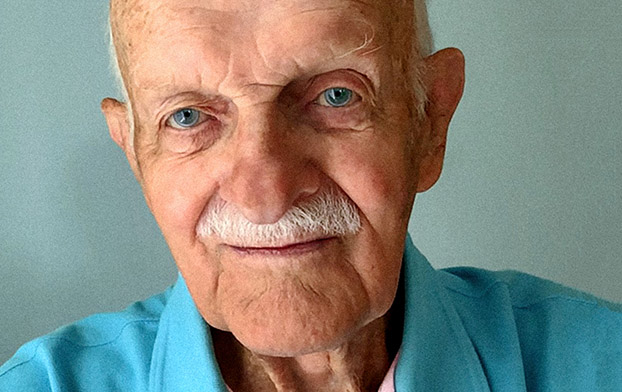 Frank, Jowell Court
Thank you
"To all my friends and neighbours here for helping me celebrate my 98th birthday during lockdown. I hope you enjoyed the cake slices Michael delivered on my behalf !"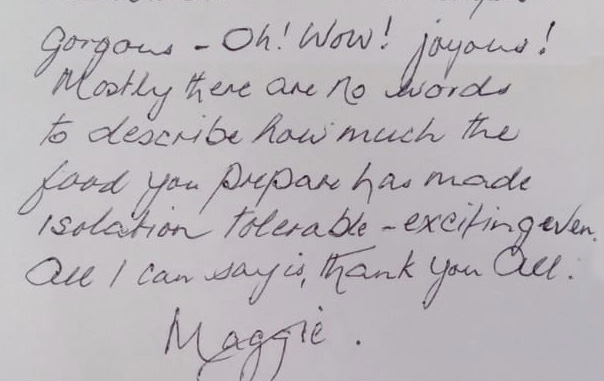 Matt Nicholas
Thank you
"Thank you to the homeowner for writing this little note. Keeps all our chef teams going."
Mrs Lyn Peters
Thank you
"We would like to to thank Jackie Lawrence our housemanager at Stukely Court Stamford for guiding us through this difficult and frightening time, she has done an amazing job under pressure and we are so grateful."
Rex, Jenner Court
Thank you
"Having had coronavirus, I am grateful to one of the domestic staff (Eva) who has looked after me every morning 7:30am. She always goes that one step further and I can't think of a good enough word to describe her"
Colin, Homeowner
Thank you
"Many thanks to Vanessa and Chris for all you've done for me, in this crisis. Plus all my neighbours, with their concerns for me. It restores your faith in human kindness. That British spirit that got us through the Second World War, that I remember is still with us"
Diana, Eleanor House
Thank you
"I would like to thank Tracy and her Team, for all the very hard work they did, and still do, to try to keep us safe and secure during the recent crisis. I'm sure it was not an easy time for them, but they performed with kindness and good humour. I wish for happier times very soon, for us all."
Bill, Homeowner
Thank you
"From all the people that you have helped and are still helping that can't thank you themselves, I hope this goes a long way to to get their heartfelt gratitude across. Once a gain a deep heartfelt thank you, stay safe"
Barbara Allen and Brian Allen
Thank you
"A really big thank you to our friends and neighbours for helping my husband and l for all they have done for us and also Macrea House community centre for the food parcels they have sent us. We have been in isolation now for 15 weeks now but we are ok thanks to all NHS and volunteers for all their hard work. God Bless everyone "
Sally Larcombe
Thank you
"Thank you John Harris for all your help collecting shielding Home owners refuse every evening during this time"
Sally Allenden, Homeowner's daughter
Thank you
"Thank you so very much to Natasha and Beth at Louis Arthur Court for looking after my Mum Eileen over the past few months. It has been a great weight off my mind to know that she has been the recipient of your kindness and support when she really has no one else to help her close by. You have been her lifeline and I am very grateful to you both."
Dave Harrison, Homeowner
Thank you
"To my wife Ann. Thank you for being patient with me during our hard times and we have so far got through it, hopefully times are on the up and we won't get on each others nerves so much, his and her TVs has been a great help."
Mrs Gardner
Thank you
"I would like to give a big shout out to Nora from Be Friends for being at the other end of the phone. Her caring, support and thoughtfulness was beyond my expectations. I would like to give a big shout out to Emile from Forest Hill Job Centre for being patient, helpful and kind in my application for Universal Credit. Last but not least a big shout out to all at Lewisham Local & Lewisham Community for organising and delivering of food products. My heartfelt appreciation to you all!!"
Judith Williamson, Brooklands Court
Thank you
"A big thank you to Janet, our House Manager and Jeannette, our on site cleaner for their diligence and hard work during this difficult time. They have both been here every day ensuring our complex is clean and safe. They have gone beyond there normal duties, shopping for residents and collecting medication as needed. Judy,John,Chris & Pat. Grateful residents."
Barbara Bransom
Thank you
"Thank you for making sure that we had everything we needed during the lockdown. However busy you were you always had time. Love you so much."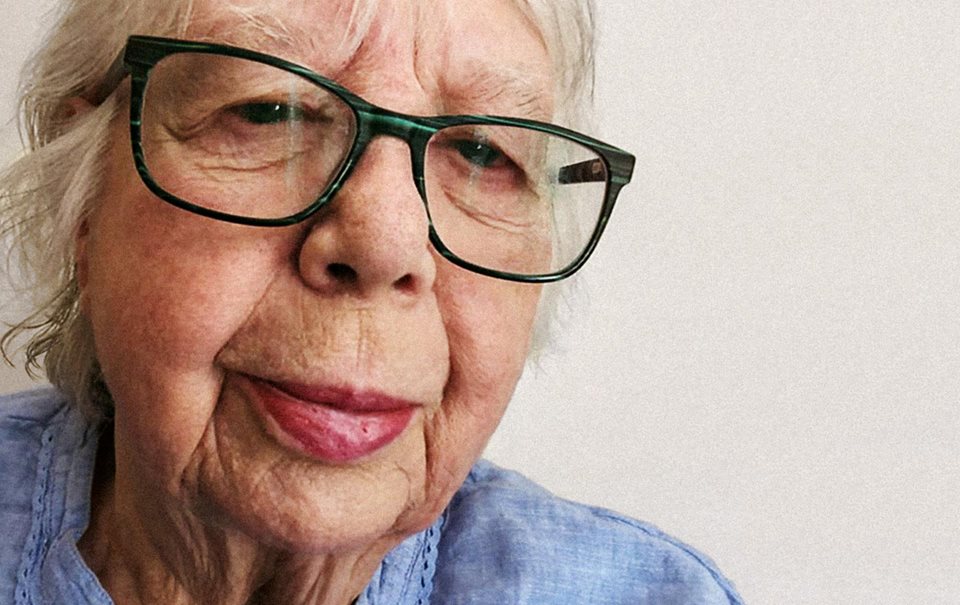 Joan, Windsor House
Thank you
"To Rachel for the delicious cooked breakfasts you delivered to my apartment piping hot every morning during isolation. What a treat!"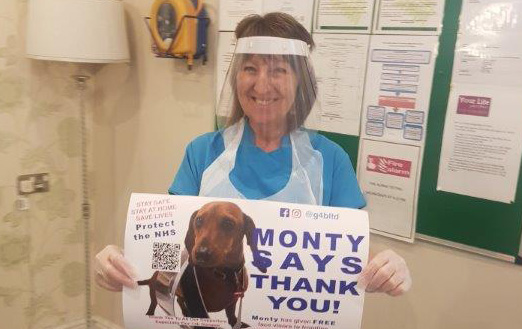 Susan Lockyear
Thank you
"I'd like to send out a huge THANK YOU to Emma Cullen for her constant support of all the home owner's and staff through the COVID-19 Lockdown. With her vigorous hygiene practices we have been virus free for 12 week's"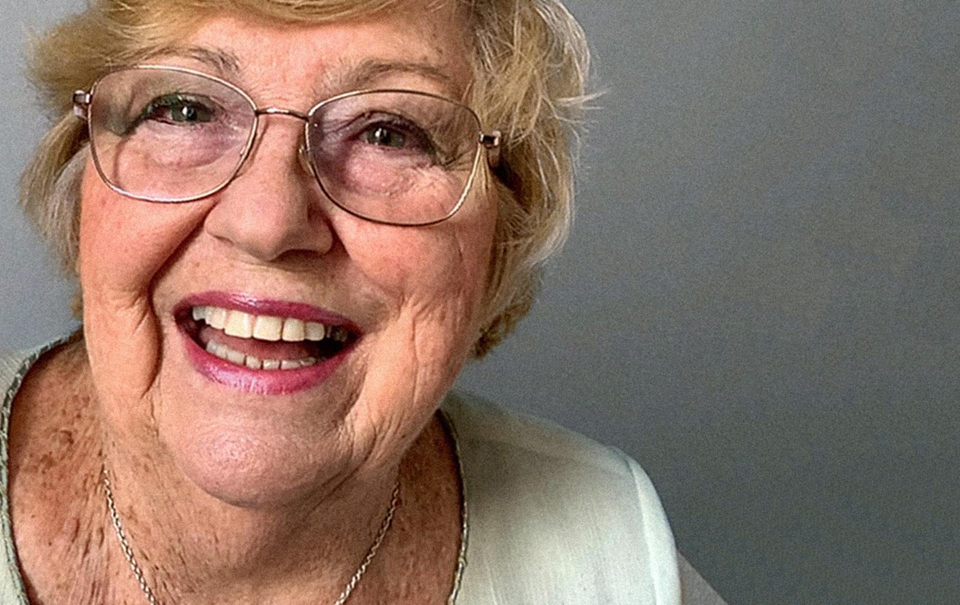 Pat, Imber Court
Thank you
"To everyone here for the [socially distanced] wedding anniversary party in the gardens for me and John. Such a lovely gesture from our great community"
Mr & Mrs Macgregor
Thank you
"To Estate Manager Ann Johnstone , duty manager Alison & the care staff. Just the way you have all coped with the difficult task of this lockdown , you all have been brilliant"
Mosie Wild, Rockhaven Court
Thank you
"I would like to thank Ryan Cropley, the buddy for Rockhaven Court. He has been extremely helpful, ringing me every Monday to check if I'm okay and what shopping I need and then visiting every Wednesday to deliver my shopping. I am totally blind and unable to go shopping on my own at the moment, but thanks to Ryan I have been able to enjoy fresh fruit and vegetables. His help is very much appreciated"
Sally
Thank you
"Thank you Winston Nelson, my area manager for all your support especially through all the last weeks."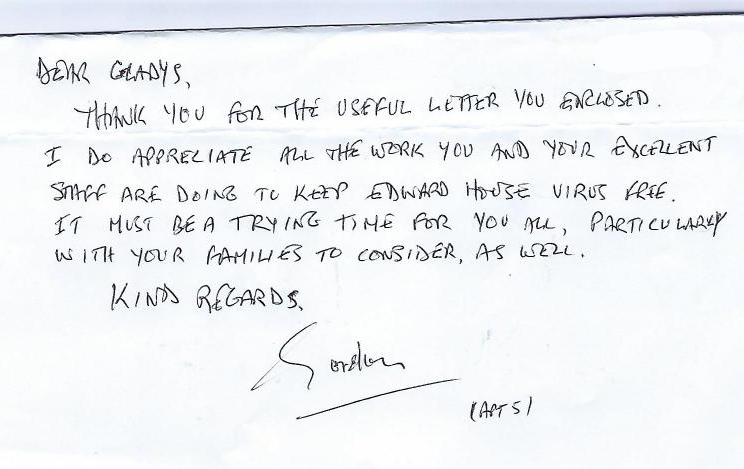 Gordon, Edward House
Thank you
"Thank you Gladys, for the useful letter you enclosed. I do appreciate all the work you and your excellent staff are doing to keep Edward House virus free. It must be a trying time for you all particularly with you family to consider as well."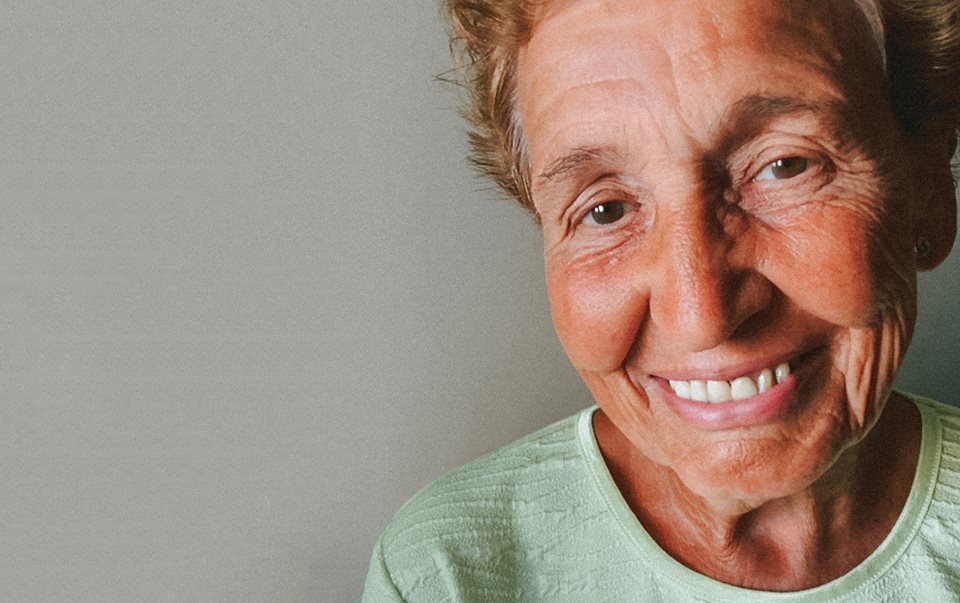 Ann, Isabella House
Thank you
"To June, Rukudzo and Jake for helping Les and I stay safe and happy during the pandemic"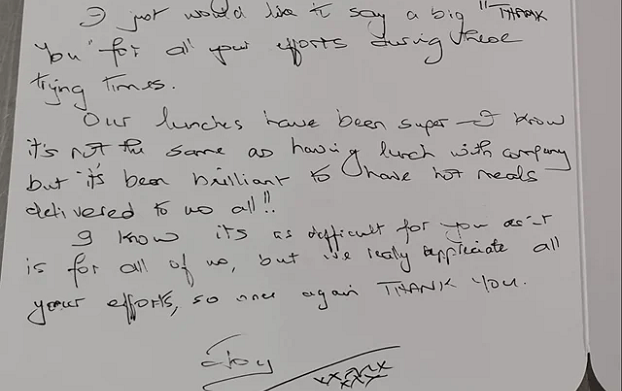 Joy, Bilberry House
Thank you
"A big thank you for all your efforts during these trying times. Our lunches have been super, I know it's not the same as having lunch with company but it's been brilliant to have hot meals delivered to us all. I know it's as difficult for you as it is for all of us, but we really appreciate all your efforts. So once again THANK YOU!!"
Helen Benn, Registered Estates Manager, Glenhills Court
Thank you
"Im so proud and grateful for the team, I have around me, everyone has pulled together to ensure the highest of standards in all care and support, infection control, and keeping each other and all our homeowners positive, cheerful, entertained, safe and well. Through this crisis, we have found positives and smiles at every step of our journey. My team have worked so hard over the past months, sometimes 7 days a week at Glenhills Court and even continuing at home to ensure we can continue making a real difference to the lives of our homeowners."
Shelia Hoffman, Homeowner at Glenhills Court
Thank you
"I am happy to have the opportunity to express my thanks to the management and staff of Glenhills Court for the excellent way we have been looked after here during this challenging period. As all our customary social habits closed down between Monday afternoon and Tuesday morning it seemed too soon, too sudden, too strict. But it has been clear that this was the right course and the continued care has saved us all. The last three months has shown us the value of the hard work 'our girls' have put in every day, from the morning wave to the goodnight check, the tasty and well served hot meals delivered each day, the constant cleaning of communal walkways, our beautifully dried and folded laundry and the special help delivered so promptly when needed. The management and staff here have kept us safe, healthy and mentally able to adapt ourselves to what lies ahead, Thank you to all."
Sheila Way, Coralie Way
Thank you
"Gemma has settled in with us at Coralie Court extremely well and we hope she will remain for a very long time. She is kind, considerate and will always go the extra mile to ensure people in her care are happy. I think McCarthy Stone and Coralie Court are extremely lucky to have her"
Homeowner's daughter, Hilltree Court
Thank you
"To the amazing staff at Hilltree Court in Glasgow, you have been absolutely wonderful throughout all of this - I can't thank them enough for everything you do for my dad."
Debbie Elsey, Middleton Court
Thank you
"I am the house manager at Middleton Court by the seaside in Porthcawl South Wales. I would like to say a huge thank you to my wonderful homeowners who have supported myself and each other superbly with social distancing. The incredibly positive spirit and neighbourly concern for each other has been brilliant, making my job a little easier . A big huge clap to them and I'm looking forward to a homeowner party when this difficult time is over."
Homeowner
Thank you
"I think the help and support during the coronavirus crisis has been remarkable. McCarthy Stone have done an excellent job of keeping us safe"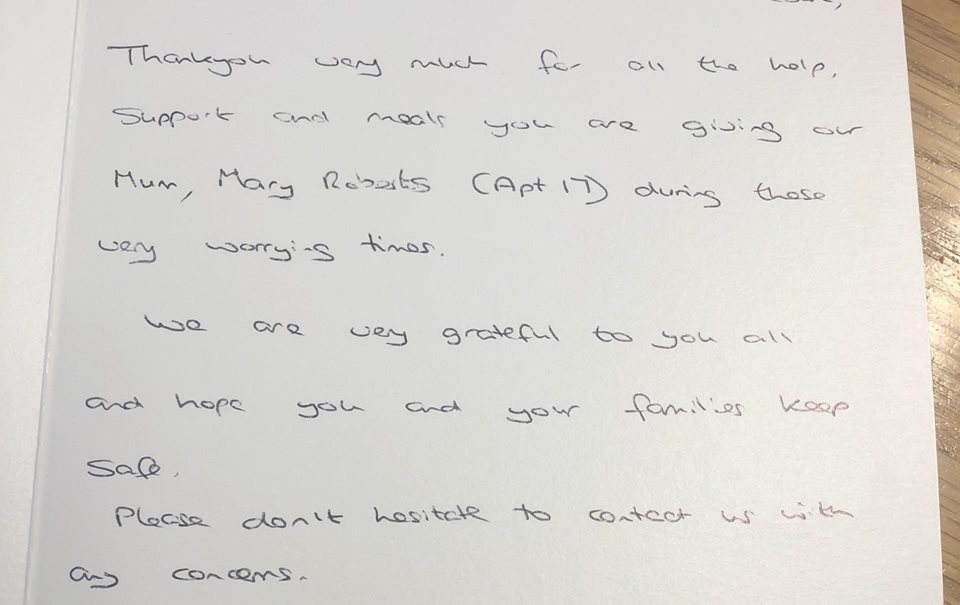 John, Catherine and Sarah, Children of Mary Roberts, Thackrah Court
Thank you
"To all the staff at Thackrah Court, Thank you very much for all the help, support and meals you are giving our mum, during these very worrying times. We are grateful to you all and hope you and your families keep safe."
Homeowners daughter, Thackrah Court
Thank you
"Dear Kelly and all the staff, thank you for the brilliant job you are doing in looking after everyone. With grateful thanks"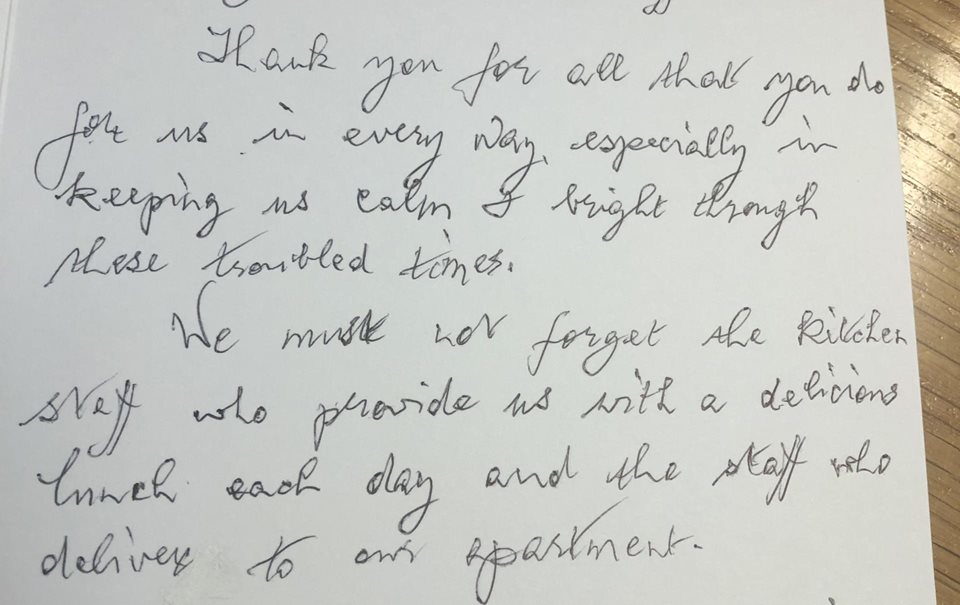 Bryan & Vera Robinson, Thackrah Court
Thank you
"To Kelly and all the staff, thank you for all that you do for us in every way, especially in keeping us calm and bright through these troubled times. We must not forget the kitchen staff who provide us with a delicious lunch each day, and the staff who deliver to our apartment."
Rosemary Funnell, Hillborough House
Thank you
"I would like to thank Marilyn and Beryl for the Union Jack decorated 'Goody Bag' containing a home made scone, jam and cream, fairy cake, fruit cake and penguin that they made and gave to everyone to celebrate VE Day."
Homeowner's daughter, Horizons
Thank you
"A huge thanks to Gina and all the team who have gone the extra mile in supporting my father with his extra care helping us get through these testing times.
The staff always come in with a smile and take a genuine interest in the wellbeing of the homeowners."
Karen Allum
Thank you
"I'd like to give a big thumbs up to Alison, the House Manager in Victory House Biggin Hill. She is so caring and such a lovely lady. She always works hard and aims to please but during the Covid situation she has gone beyond what is expected of her. Well done Alison and thanks you so much. "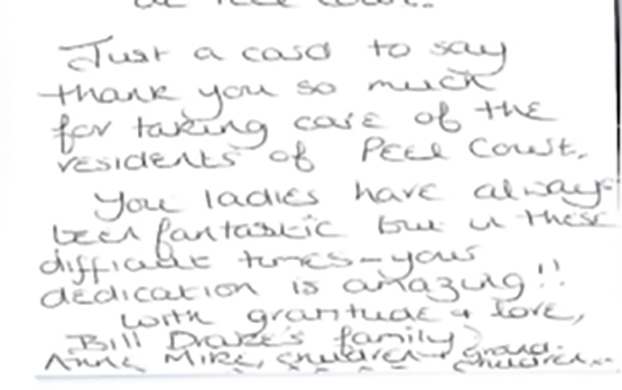 Homeowner's family, Peel Court
Thank you
"Dear Anna and all the wonderful team at Peel Court. Just a card to say thank you for taking care of all the residents at Peel Court. You ladies have always been fantastic, but in these difficult times - your dedication is amazing!!"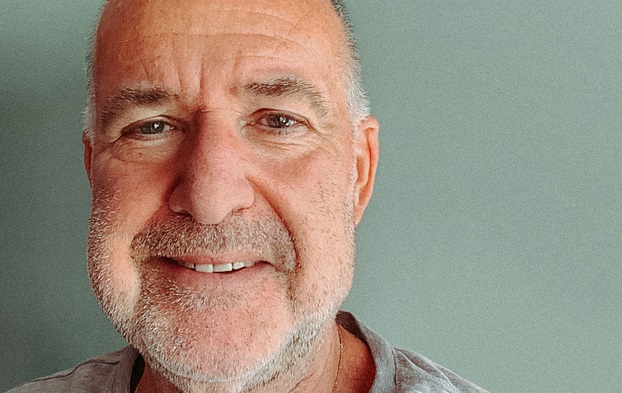 Tony, Canning Place
Thank you
"To my brilliant neighbours for getting to grips with technology so we could enjoy virtual coffee mornings together during lockdown."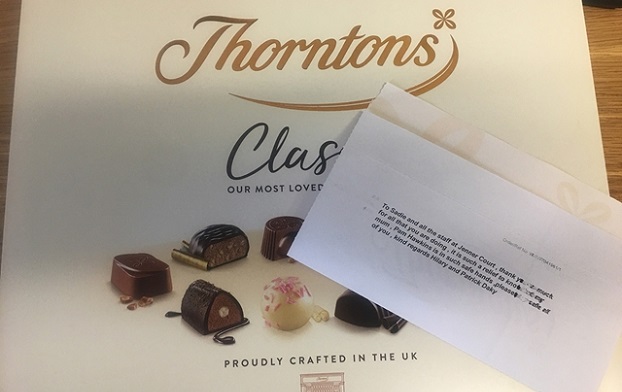 Homeowner's daughter
Thank you
"I just want to say thank you from the bottom of my heart for all you are doing for my Mum. Words can't express how grateful I am."
Homeowner's daughter, Louis Arthur Court
Thank you
"I just wanted to say thank you, really, as I don't think my Mum could have been in a better place when she is probably the most alone she has ever been in her entire life. She is happy and I have peace of mind that she is being looked after so well."
John, Coralie Court
Thank you
"Since the onset of Covid-19 restrictions - (and before), Gemma has remained cheerful, diligent always putting her residents welfare before her own personal needs. Her charm persuades local tradespeople too, so that our vital needs are maintained. We have Fish and Chips delivered weekly, freshly cooked hot lunches on Sundays, medical needs delivered, papers and mail distributed promptly. Furthermore when she is officially off duty, arranges that these services continue. Consequently our morale is high. We are truly blessed to have such a competent sympathetic practical manager, who is truly loved by us all."
Doug, Blyton House
Thank you
"My wife and I are going through a particularly difficult time at present as well as the constant threat of Covid19. All the residents and the concierge of Blyton House here in Bourne End have sent us their best wishes and collected a substantial sum of money for us to donate to a charity of our choice. We have donated this to S.S.N.A.P., the premature baby charity connected to the John Radcliffe hospital in Oxford It is so nice to be living with such a caring group of friends."
Jayne Nairn
Thank you
"I would like to say a huge thanks to Vicki the House manager at Darroch gate Blairgowrie. Mum could not have been in a better place through this difficult time, Vicki is amazing, she has been poorly but thinks of her residents so much. Knowing she is about for mum if needed is a huge comfort. I feel mum is safe and secure where she is and is has meant a lot knowing Vicki is there on hand if needed."
Ben Woodfall, Triton House
Thank you
"My very sincere thanks go to Ms Gibson for her care and compassion and who has been contacting me to find out how I am, and how I am coping in isolation. As a 93 year old, I find it heartening. My thanks also go to Mr Cox, Manager of "Pebbles Restaurant" who supplies lunch - if we want it - to our apartments, and who also setup grocery deliveries should we require it."
Arline, Albert Court
Thank you
"I wish to express my thanks to all the staff here at Albert Court, Henley. They do everything they can to make sure we are safe. Feeling safe and cared for is such a comfort. I am in the category of needing 'shielding'. So keeping to my own space has been important. All this is very comforting. So a big THANK YOU is due to ALL members of staff at Albert Court."
Veronica Gaffon
Thank you
"To all Tesco staff, thanks for keeping us all fed and watered every day"
David, Albert Court
Thank you
"We have been in lockdown now for a couple of months and would like to record that during this time (as always) we have had exemplary service and help from all Albert Court staff including the chef and kitchen staff as well as the carers and management. Many times they go beyond the call of duty. Here we have 25 occupied apartments; this message was prompted after speaking with a neighbour. We both regularly talk with others (by telephone or at a safe distance when we meet) so we feel sure this complement is similarly reciprocated by our fellow homeowners. So thanks to McCarthy Stone and everyone for keeping us safe."
Homeowner's family
Thank you
"I've been really impressed with the care, compassion and practical service provided to my father and step mother by McCarthy Stone, particularly during this difficult period. Thank you from the bottom of my heart - it means the world to me and my family."
Rutherford House Homeowners
Thank you
"A massive thank you to all your staff for the love and support that you are giving to everybody in Rutherford House"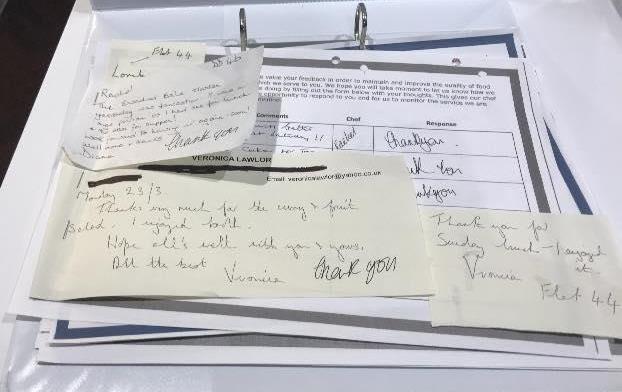 Homeowner, Augustus House
Thank you
"Thank you so much for the lovely meals I really enjoyed them. "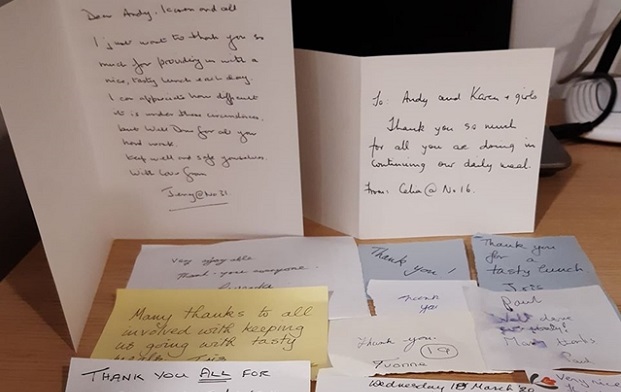 Mrs Ponting, Homeowner
Thank you
"Many thanks to all in the kitchen for keeping us fed at this difficult time."