Random Acts of Kindness
We want to celebrate the many spontaneous and creative acts of kindness our wonderful development managers carry out every day of the year.
Kindness comes naturally to our development teams, as Maxine Homolka House Manager, Meadows House, Walton-On-Thames, puts it, 'that's the best thing about being a House Manager. We get to look after and cheer people up.'
These are just some of the small things they do that make a huge difference in our developments around the country.
Surprise cupcakes
The sales team at Augustus House, Virginia Waters baked cupcakes for the homeowners – and they disappeared really fast! With thanks to Ann Stewart for sharing.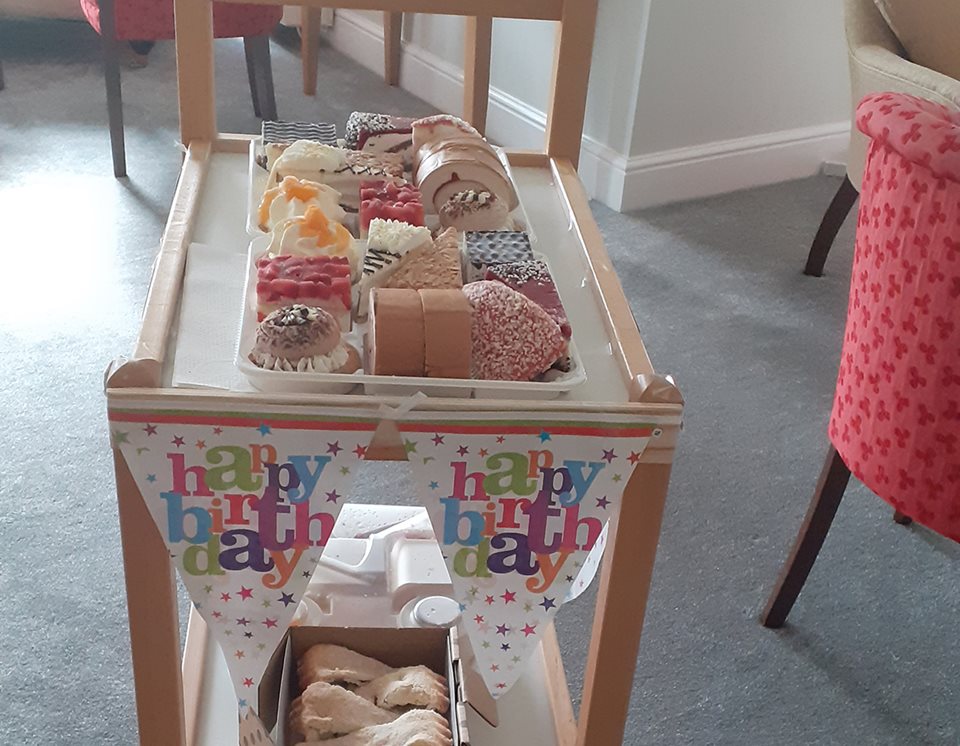 Lockdown birthday treat and more
Sharon Bird, House Manager at Fussells Court in Worle was very concerned about her very sociable homeowners over lockdown, so has spent the year on safe, creative ways to keep people buoyant -like 'virtual coffee mornings'.
She also created a 'birthday tray'. The Homeowner would come to the lounge to find their birthday trolley filled up with cards and gifts. They'd also have a photo taken and put in a frame for them. 'The birthday trolley is still a big hit – but everyone agrees they cannot wait to get together in person again soon – and make some noise in the lounge!'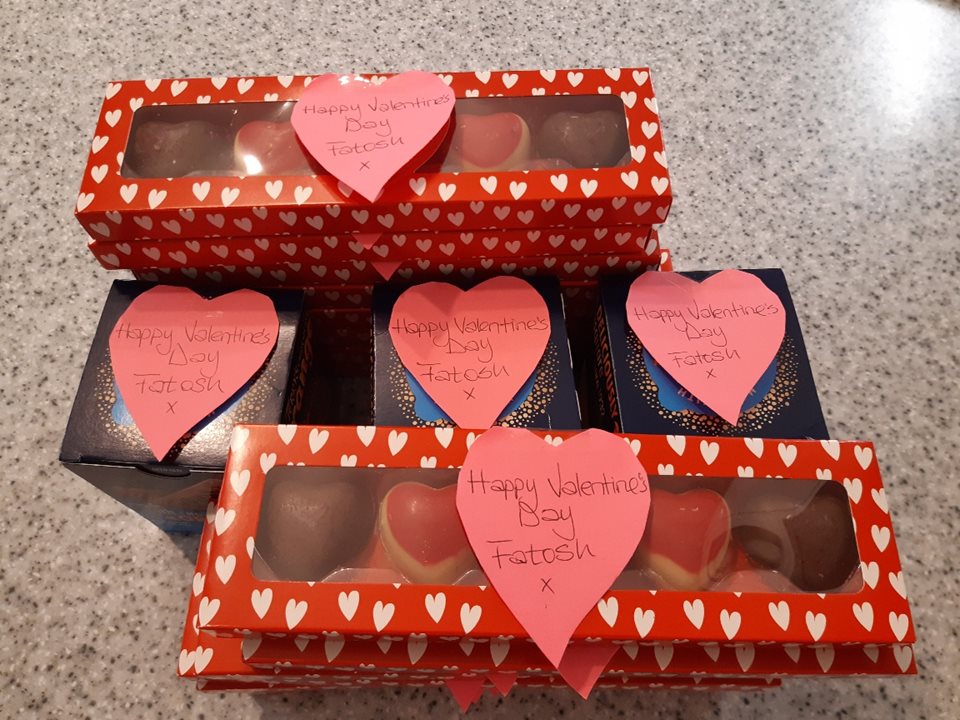 Lovely gifts
Sales Consultant, Fatosh Lewis delivered Valentine's Day chocolates to homeowners at Albert Court, Henley-on-Thames – and received some lovely thank you cards in return.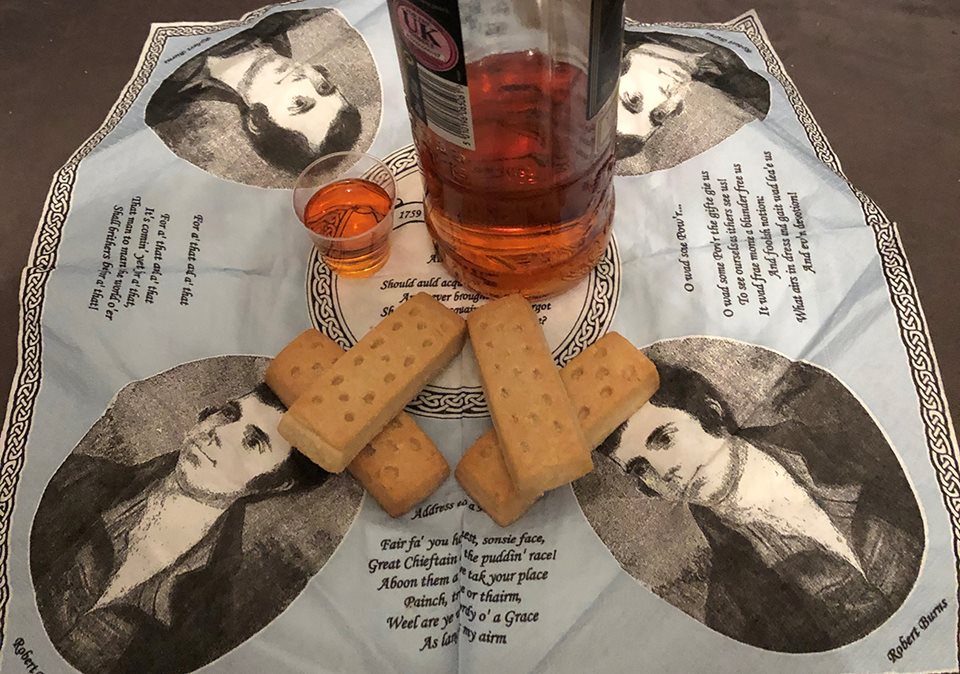 Making every occasion special
Alison Scally, Estate Manager, Weighbridge Court, Ongar, Essex, has gone out of her way to mark every occasion during lockdown – from birthdays to Burn's Night.
'For New Year's Eve, I purchased boxes of shortbread and gave them to all of the homeowners as part of 'Hogmanay'. To go with the 'Burns night' meal I provided tots of whisky, Dundee cake and more shortbread. On Valentine's day there will be chocolate hearts, cupcakes and for the ladies, a rose.
I have been busy crafting too, so not only did every homeowner have a handmade Christmas card from myself and the team but that they also get a handmade birthday card too.'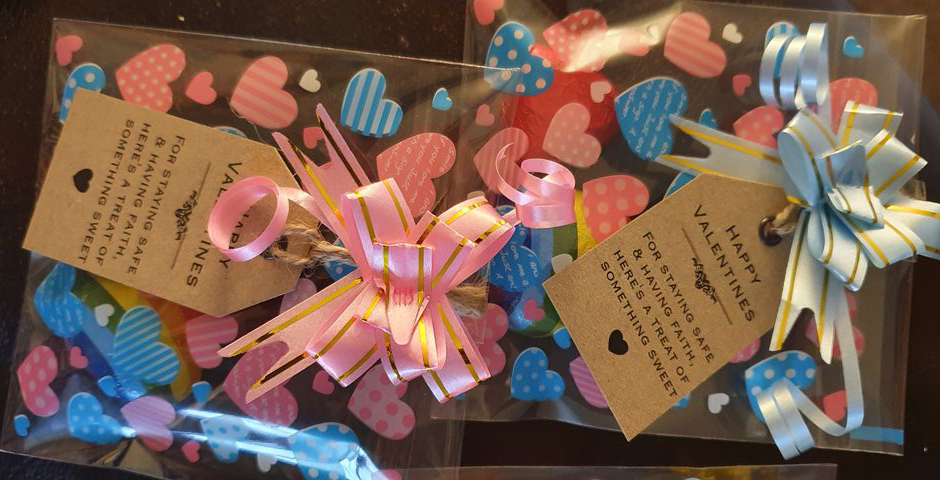 Showing we care
'I had put together Valentine's Day treat for our wonderful homeowners. It's a day to say, we care, not just to say I love you! It's been a tough year, and I just wanted to say we appreciate everybody's efforts to stay safe and protect one another.'
Tracy McNulty, Care and Support Worker at Sumersbrook Court in Newport, Isle of Wight.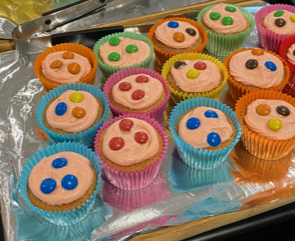 Rainbow cakes
The Estate Manager at Sycamore Court, North Yorkshire, Claire O'Doherty's 15 year-old daughter Beth made three dozen cupcakes as a treat for the 'lovely homeowners' there. Claire and Beth decorated them together in beautiful rainbow colours and they were 'much appreciated' and didn't last long.
Offering a helping hand – even on days off!
Sally Thorndale, Administrator at Bowes Lyon Court in Dorchester, shares the acts of kindness that care and support staff do at the development, regularly going above and beyond in their jobs, even on their day's off.
These include helping out with gardening, shopping, charity shop runs, recycling, looking after people in hospital with clothes and post, baking cakes, phoning for a chat and even creating and circulating a homeowner-led newsletter.
Chocolate cakes, brownies and quizzes
Sonya Final, House Manager, Le Jardin, Letchworth gave every homeowner chocolate cake in the summer as they were unable to have an anniversary party. At Christmas she baked chocolate brownies and left them on the table on each floor for homeowners to pick up. She's also sent out quizzes and made up wordsearches to try to keep them occupied through lockdown!
'I belong to the Action for Happiness group in my area, so I also put up an Action for Happiness Monthly Calendar on the notice board to keep everyone motivated/happy!'
Cheering flower pictures
'I had an idea where I can send pictures of flowers to homeowners that could do with a little cheering up in these difficult times. Homeowners say they will put it where they can see it because it makes them feel good looking at something bright and cheerful.'
Doreen Vernon, House Manager at Bluebell Court, Tettenhall, Wolverhampton.
Postcards of Kindness
Rachel Eades, Estate Manager, Shackleton Place, Devizes, says that the team and homeowners have been working together on 'Postcards of Kindness', sending postcards to care homes all over the UK to bring cheer and comfort in a time when many older people may be feeling alone and isolated
Puzzles, wool and golf machines
Maxine Homolka, House Manager at Meadows House in Walton-On-Thames, her team and the community, have been very busy during lockdown with kind acts that are keeping spirits soaring…from elf visits and a memory tree at Christmas to puzzle swaps, wool donations and more.
'The local communities are so caring and generous. I put a call out for any wool donations for our knitters who make items for charity. We were very kindly given a huge mound of wool. Then one of our homeowners plays golf however, his automatic indoor golf machine stopped working. A kind couple notice my post asking for a donation and they delivered a golf machine, complete with batteries. We had one happy chappy.
And there's nothing like a good puzzle to break up boredom. We have a local puzzle swap service, so we never run short of a supply. All puzzles brought in are quarantined and sanitised in my car before being delivered by the puzzle swap fairy - me!'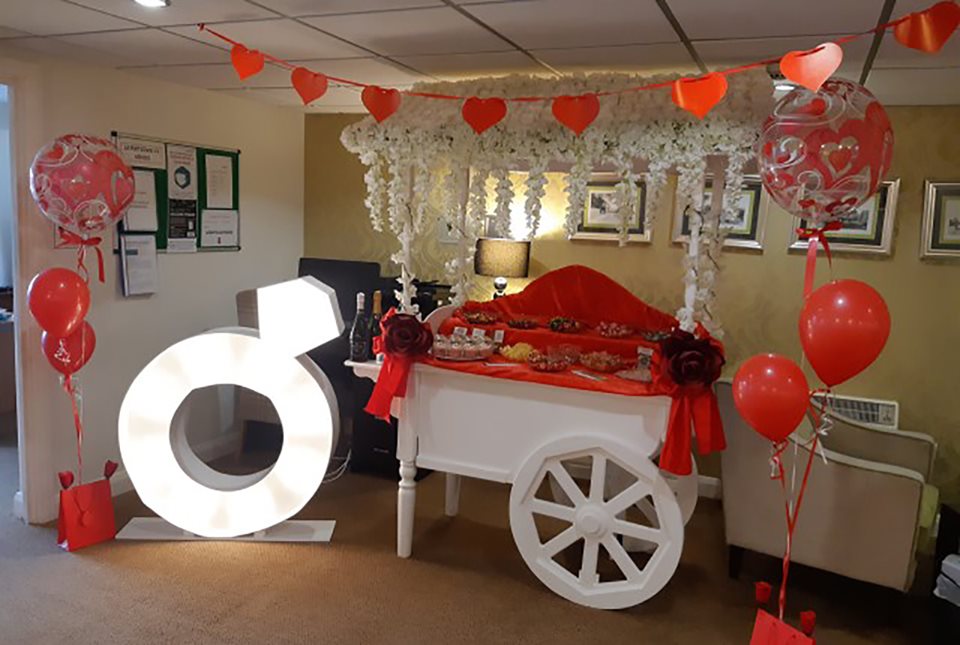 Valentine's surprises
Vanessa Deans, House Manager at Hanna Court in Cheshire held a (safe) Valentine's Day event.
'Obviously, due to current restrictions, things are very limited, but I was determined to arrange something to raise a few smiles and cheer everyone up.
I contacted a few local event companies who were so kind and generous in allowing us to use their products for free! I just had to purchase the treats and prosecco. I allocated each homeowner a time slot to pop down and collect their treats and a glass of prosecco – safe to say, it went down very well It was just so nice to see happy, smiling faces during these challenging times.'
Making appointments
Jan Garratt, House Manager at Leedham Court in Hebden Bridge and a volunteer driver helped a homeowner get to hospital at short notice when he lost his wallet.
Sunflowers and feel good Friday
'We all need a little pick me up in these days,' says Christine Goddard House Manager at Squire Court in South Molton, Devon, who has come up with tonnes of creative ways to be kind during lockdown.
'On the first lockdown I did 'Feel Good Friday' I would pull an apartment number out of a hat and then they would get a little gift, some nice biscuits, a box of chocolates, some bubble bath etc. I also grew everyone a sunflower each from seed – to look forward to when we will have some more sunshine in our lives. They grew them in their apartments and when they got too big, we planted them in the garden for all to enjoy. When they had finished flowering some saved the seeds either to grow some more next year or to feed the birds.
This Valentine's Day there will be a single rose wrapped and left for every household – no message – guess who!'
Laughter is the best medicine
'One of my homeowners came to me the other day all in a "tiz" as she couldn't find her mobile phone, so I offered to call it for her to try and locate it.
So I stood outside her door and called it, we could hear it ringing and she was wondering around looking under everything but still couldn't find it, as she came near to the door I realised the ringing was coming from her, she had a few layers on and sure enough the mobile was hidden amongst her layers!
More a funny story rather than an act of kindness, but she's struggling at the moment as her husband is poorly. The fact that it made her smile and we had a laugh about it probably made her day!'
Sonya Jackson, House Manager at Olivier Place in Salisbury, Wiltshire.
Feeling inspired?
The Random Acts of Kindness Foundation encourages you to carry out small acts of kindness that may make all the difference to the person who benefits. Why? To spread happiness, to change lives for the better, to brighten up someone's day. A great example is buying the person behind you in the queue a coffee, but it could be as simple as a smile and a wave. Find ideas here.