Good news stories to brighten up your day
It's easy to believe from the media that there isn't any good news out there. But there is. That's because there is something about adversity that brings out the very best in us all.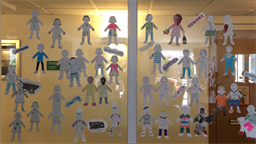 Homeowner's at Carrick Court decided, that if they can't be together in the Club Lounge, then they would be there in spirit!
Each homeowner has decorated a little cut out figure which describes their feelings, hopes and thoughts throughout this pandemic.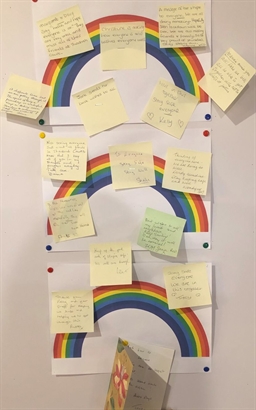 Homeowners at Thackrah Court wanted to send messages to their friends within the development but didn't want to necessarily use the telephone, so a message board has been created! What a nice touch and so far a few homeowners have enjoyed leaving messages for others
As homeowners at Sykes Court are not able to meet in the lounge and some were getting a bit down, their local hospital had requested hearts to give to patients and next of kin. As neighbours needed an uplift one lovely homeowner set about knitting one for each occupied apartment. 53 in total and a lot of the homeowners have hung them on their door!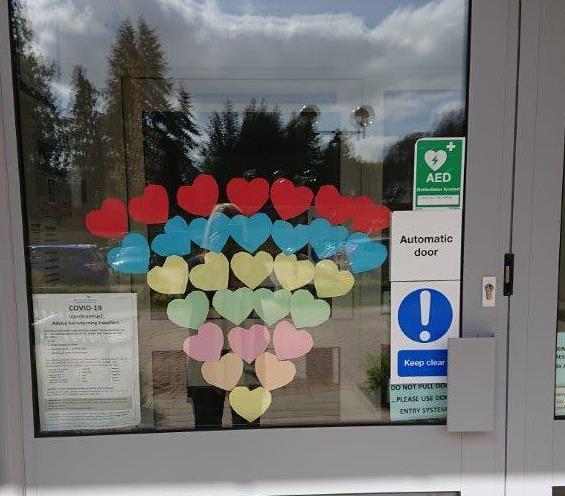 Conachar Court in Perth have a rainbow on the entrance as a thanks to every one assisting at this time
Homeowners at Chiltern Place are missing their usual catch ups in the communal lounge with their wine glasses. Since they are not able to safely enjoy this at the moment, they have set up a WhatsApp group where they are able to enjoy each others company virtually!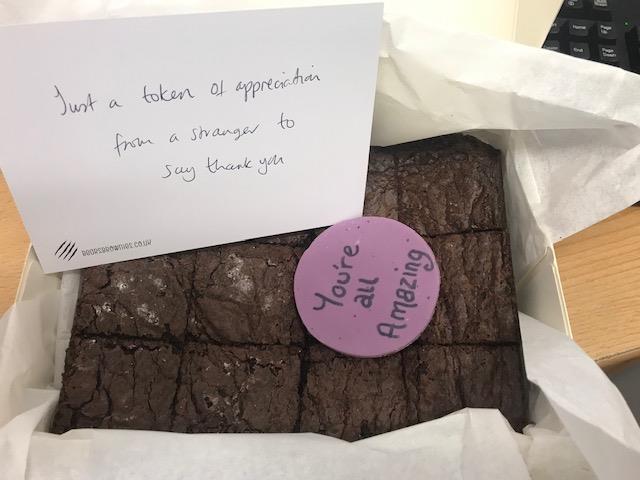 Over the last few weeks our House and Estate teams continue to work tirelessly to support and protect the health and wellbeing of our 20,000 homeowners. It is great to join in with clap for carers every week to show our appreciation but it is always so special to see thank you cards and notes sent to our House and Estate Managers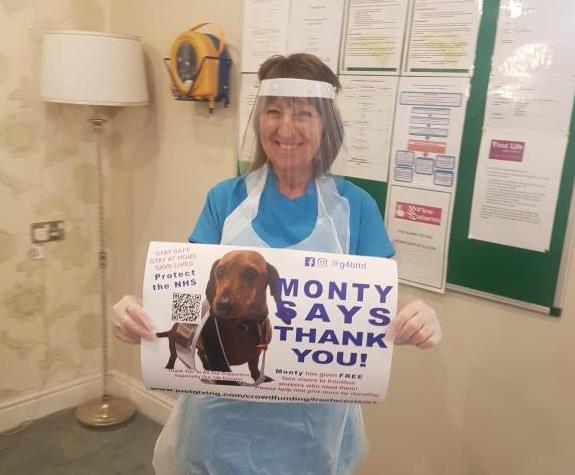 Many thanks to G4BLTD for donating 40 face visors for our team at Cartwright Court. These face visors will help our teams help with homeowners who need daily support and help during this difficult period.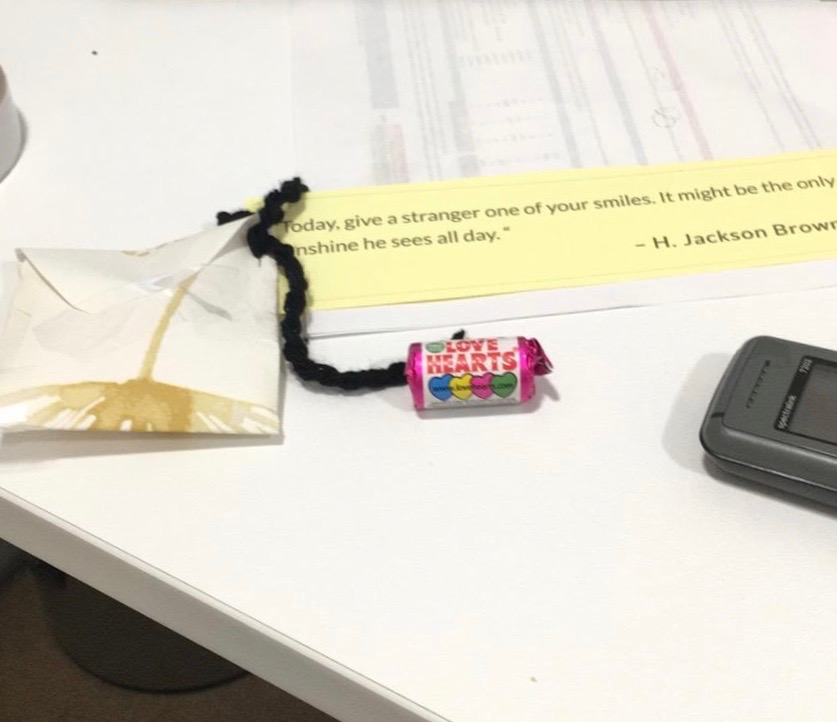 To spread some positivity to our homeowners, one of our House Managers posted sweets as a little gift to make them all smile! The sweets came with a note reading 'Today, give a stranger one of your smiles. It might be the only sunshine he sees all day' - H Jackson Brown.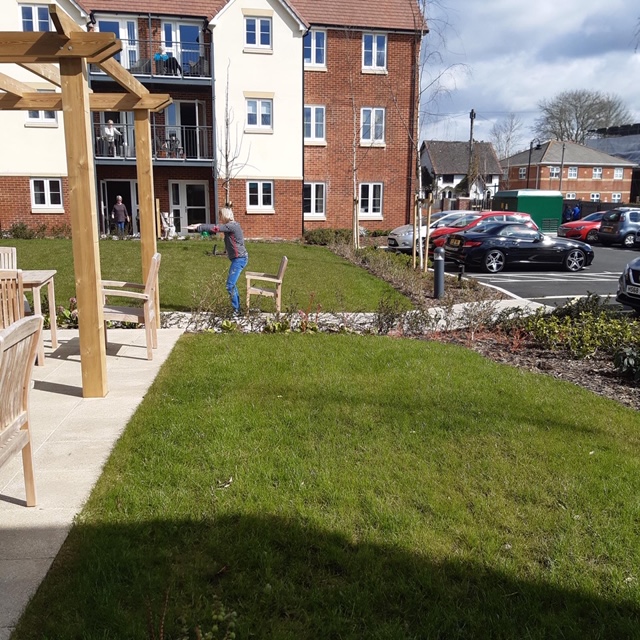 Our House Manager at Shilling Place is helping our homeowners stay fit and healthy during the lock down by doing morning aerobics in the garden whilst the homeowners follow on their balconies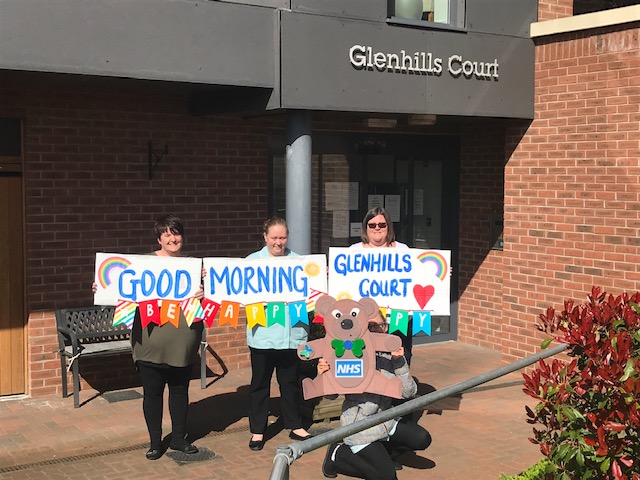 Everyday at 11am, the team at Glenhills Court in Leicester take a walk around the outside of the development to say 'Good Morning' to all their homeowners who are self-isolating. Everyone comes to the windows and balconies where they all have a good chat and catch up. It's great to see homeowners waving flags and the teams' children have been busy in the lockdown creating some fantastic banners! Spreading lots of smiles and creating something for everyone to look forward to!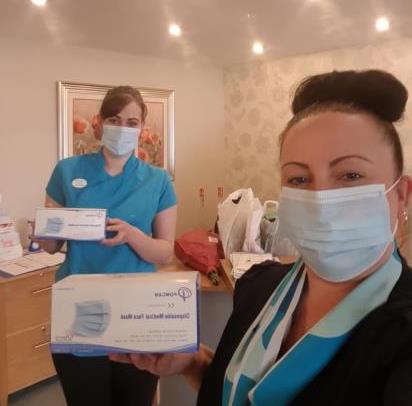 Thank you to Pinder Holdings for donating 100 masks for our dedicated staff who are supporting our Homeowners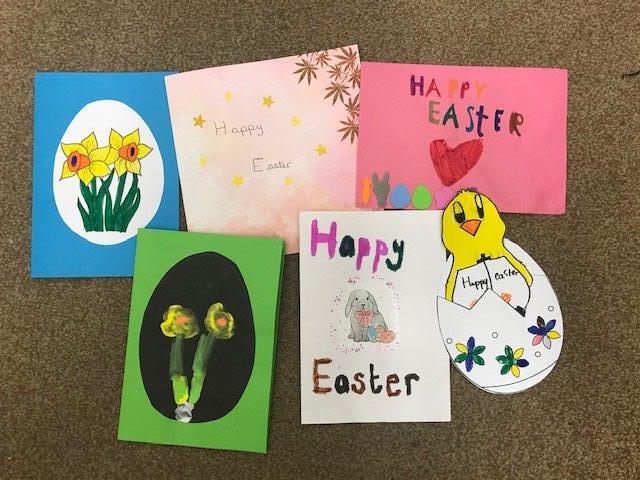 Thank you to the children at Glenhills Primary school who made Easter cards for all 47 of our homeowners!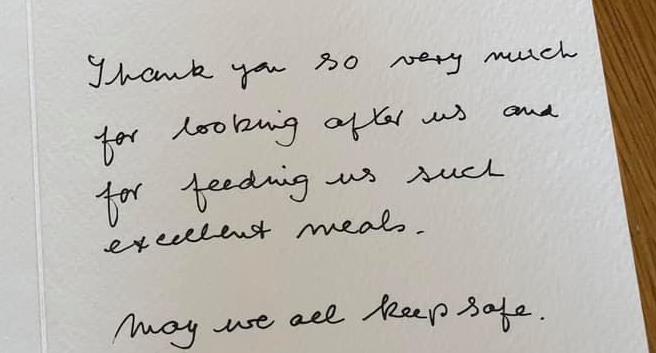 A big thank you to the Chef at Roswell Court who served a delicious three course meal for our homeowners.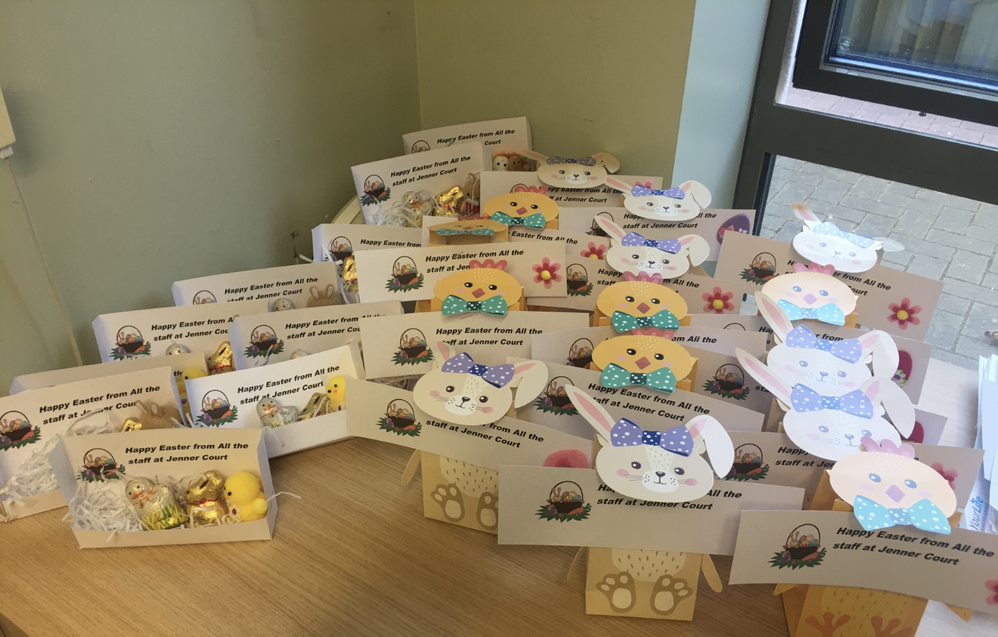 Our homeowners at Jenner Court received Easter gifts from the House Manager, in return they received a lovely thank you: "Thank you so much for such a lovely surprise – an unexpected chocolate bunny is such a treat in these strange times. And thank you all for all you do for us under difficult circumstances – we appreciate everything, though sadly our contact is so fleeting we often don't have time to say so"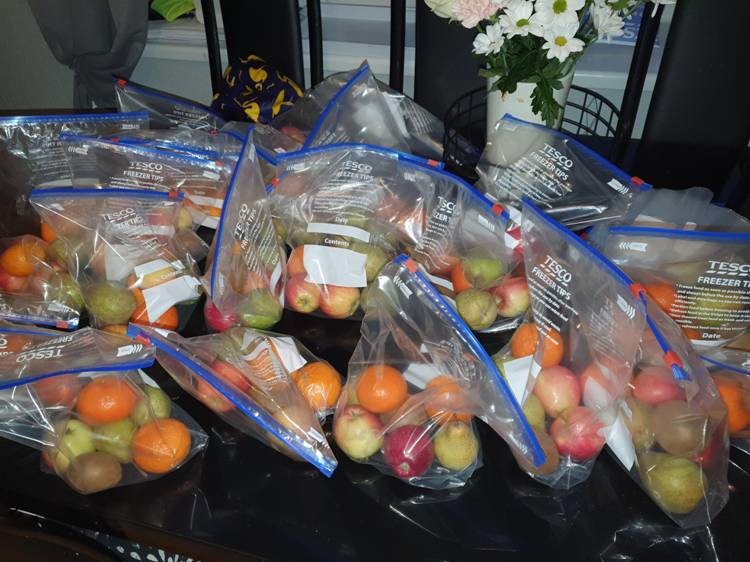 Our Estate Manager at Bilberry Place puts together fruit and vegetable bags for the residents each week. Each bag contains 6 items of fruits or vegetables to ensure the residents can still enjoy a balanced and healthy diet without going outside. Residents put their orders on Thursday and delivery is on Monday mornings. What a fabulous idea!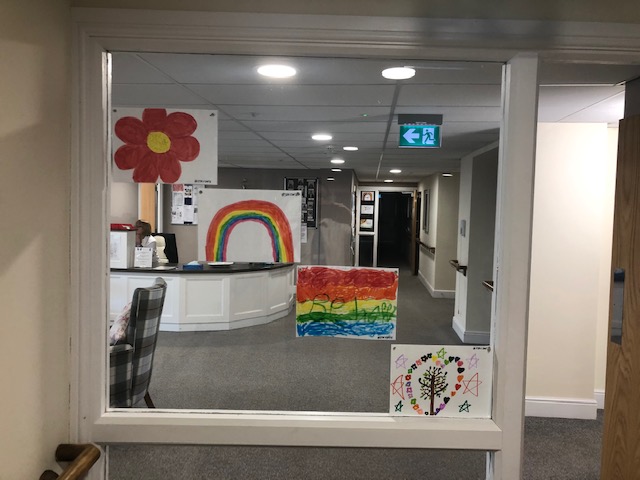 Three local children (Florence, Jessica and Emily) have drawn and laminated some pictures for the residents at River View Court in Nottingham. We haven't got their contact details but wish we did as our homeowners would love to thank them for their support.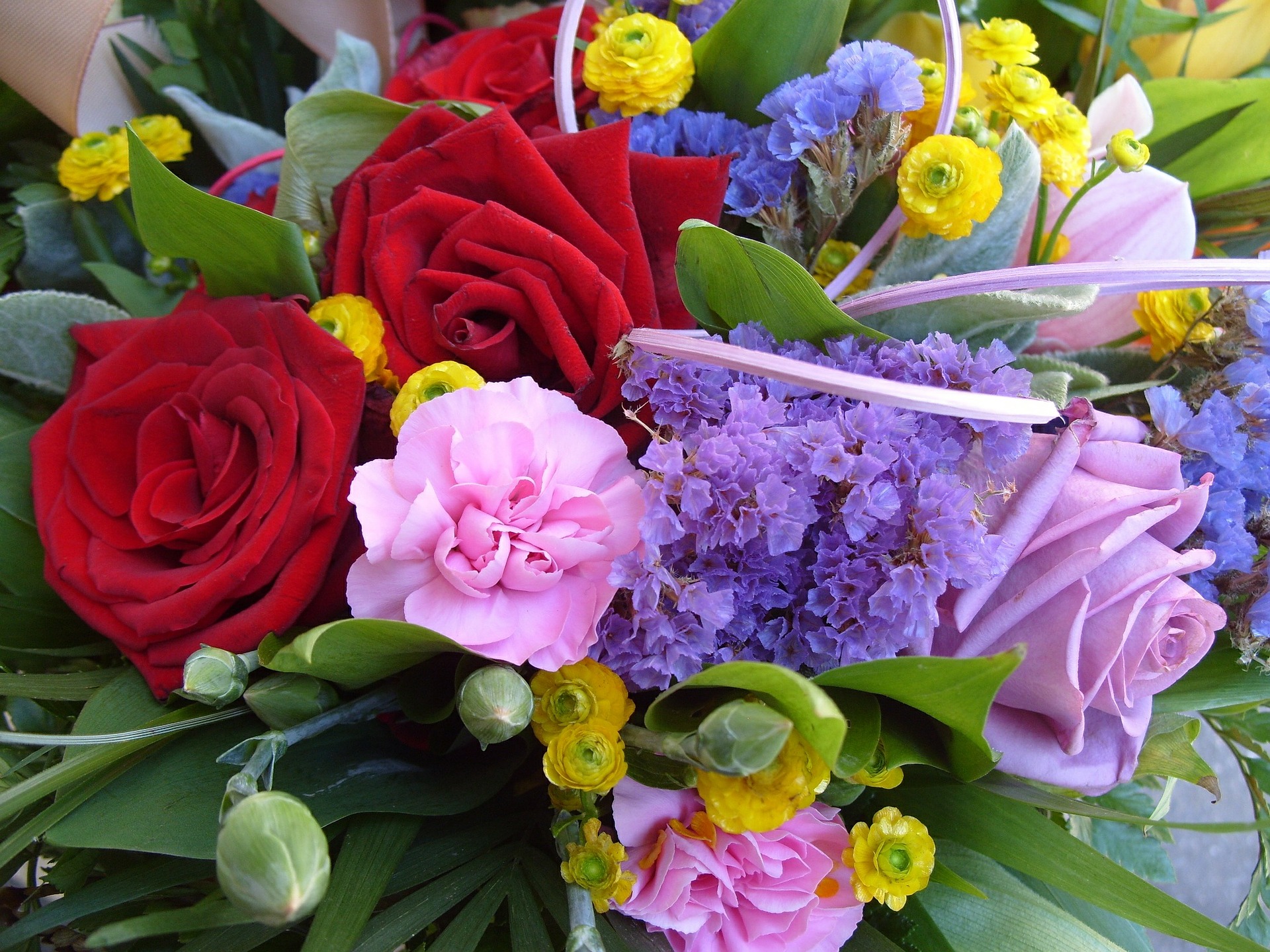 Tesco donated some flowers to the homeowners at Bilberry Place who don't have any family and are very down and frightened at this time.
Kenneth, the son of one of our Estate Managers entertained the residents of Hilltree Court with his bagpipes. Residents watched from their windows and few sat outside observing the 2 meter distance. This certainly brought a few smiles to all!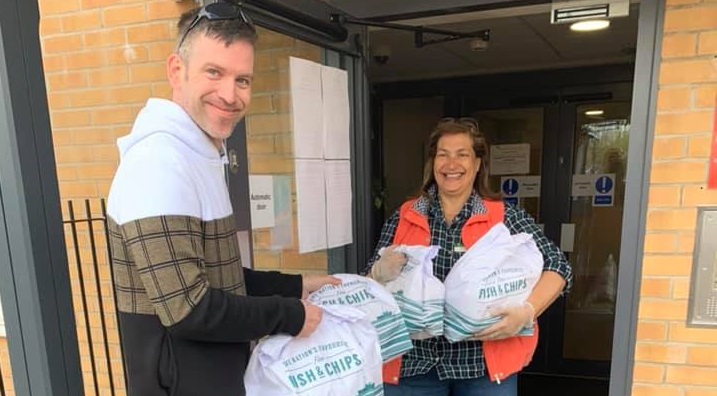 A lovely gesture on Saturday lunchtime from Hampton Plaice Fish & Chip shop. Donated pie and chips and some toilet rolls to Cranberry Court. Very much appreciated, a sign of Hampton's community helping one and another, in this unsettling time.
Children at St Margarets Primary school in Warrington sent letters and pictures to our homeowners to make sure they keep smiling.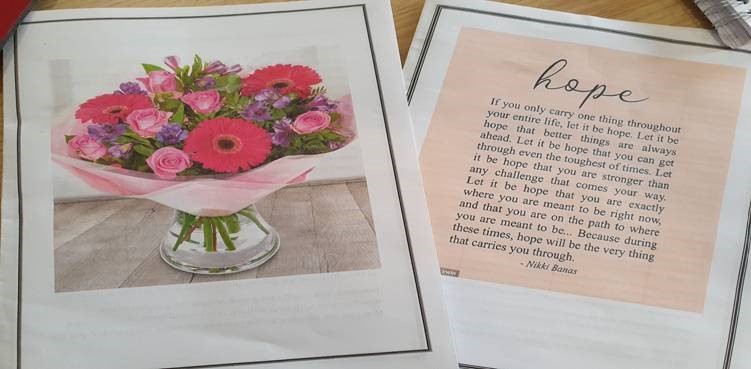 On Mother's Day our House Manager at Bilberry Place made cards for the residents who couldn't be visited their family to help lift their spirits.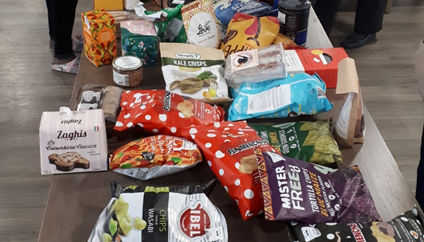 A wonderful gesture from a local business in Stafford. Brought supplies and food for our homeowners at Deans Park Court. A huge thanks to TKMaxx for their kind generosity.